UPDATE: Royal Mail have now resumed shipments on ALL International services but delays should be expected, please choose FEDEX if your order is urgent.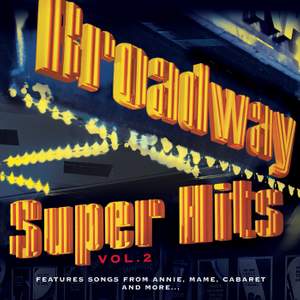 Broadway: Super Hits, Vol. 2
Jerry Lanning, Topol, Angela Lansbury, Donald Pippin (director), Orchestra, Jill Haworth, Priscilla Lopez (vocal), A Chorus Line Ensemble (vocal), Glynis Johns, Helen Gallagher, Thelma Oliver, Fred Werner (director), Andrea McArdle, The Boston Pops Orchestra
Theodore Saidenberg, Gareth Davies,...
Contents
Loewe, F: My Fair Lady: On the street where you live
Jerry Lanning, Orchestra
Theodore Saidenberg
Bock, J: If I were a rich man (from Fiddler on the Roof)
Topol, Fiddler on the Roof Orchestra (1967)
Gareth Davies
Herman, G: Open a New Window (Lansbury and All)
Angela Lansbury, Sab Shimono, Diane Coupe, Charlotte Jones, Diana Walker, Johanna Douglas, John C. Becher, Randy Kirby, Margaret Hall, George Coe, Frankie Michaels, Jerry Lanning, Charles Braswell, Willard Waterman, Jane Connell, Beatrice Arthur, Donald Pippin (director)
Styne: Together Wherever We Go from Gypsy
Orchestra, Faith Dane, Ian Tucker, Michael Parks, Don Emmons, Ricky Coll, Marvin Arnold, Billy Harris, Steve Curry, Gene Castle, Bobby Brownell, Maria Karnilova, Chotzi Foley, Paul Wallace, Ethel Merman, Lane Bradbury, Karen Moore, Jacqueline Mayro, Jack Klugman, Sandra Church, David Winters
Milton Rosenstock
Jill Haworth, Orchestra, Harold Hastings
Hamlisch: What I Did for Love
Priscilla Lopez (vocal), A Chorus Line Ensemble (vocal), A Chorus Line Orchestra
Don Pippin
Sondheim: A Little Night Music: Send in the Clowns
Glynis Johns, Orchestra
Harold Hastings
Coleman, Cy: Big Spender (Gallagher, Oliver, Girls)
Helen Gallagher, Thelma Oliver, James Luisi, Sharon Ritchie, I. W. Klein, Carmen Morales, David Gold, John Wheeler, Darrell Notara, Barbara Sharma, Eddie Gasper, Harold Pierson, John Sharpe, Ruth Buzzi, Gene Foote, Elaine Cancilla, Bud Vest, John Stratton, Michael Davis, John McMartin, Fred Werner (director), Gwen Verdon, Arnold Soboloff
Andrea McArdle, Orchestra, Peter Howard (director)
Lloyd Webber, A: The Music of the Night (from The Phantom of the Opera)
Boston Pops Orchestra
John Williams