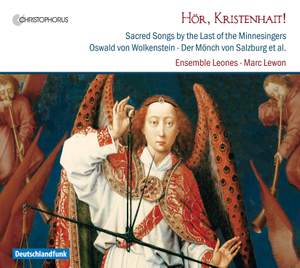 Hor, Kristenhait! / Listen, Christendom!
Sacred Songs by the Last of the Minnesingers
Marc Lewon (voice, lute, gittern, vielle & direction)
Ensemble Leones
Instrumental performance is entirely in the brilliant hands of Marc Lewon (who directs the ensemble) and Baptiste Romain, with a wide variety of instrumenta discreetly employed. Lutzenberger...

— More…
Contents
Michel Beheim: Kurze Weise: Vom heiling geist / Heliliger geist, rat und volleist
Wolkenstein: Keuschlich geboren
Sabine Lutzenberger (soprano), Baptiste Romain (strings)
anon.: Buxheimer Orgelbuch
Pulcherrima de virgine [Buxheimer Orgelbuch, ca. 1460-70]
Monk of Salzburg: Von anegeng der sunne kchlar
Baptiste Romain (bagpipe)
Wolkenstein: Hor, kristenheit!
Monk of Salzburg: Heyligs kreucz ein paum gar aine
Raitis Grigalis (voice), Baptiste Romain (strings)
Wolkenstein: Mich trost ain adeliche mait
Sabine Lutzenberger (soprano)
Ensemble Leones
Indescort, "A discort son Desir et Esperance" [Codex Faenza, ca. 1420]
Monk of Salzburg: O Maria pya
Raitis Grigalis (voice), Baptiste Romain (strings)
Loqueville: O regina clementissima
Wolkenstein: In Suria ain braiten hal
Raitis Grigalis (voice)
Ensemble Leones
Sicher: St. Gallen Organ Book
Monk of Salzburg: Maria ward ein pot gesanndt
Sabine Lutzenberger (soprano)
anon.: Buxheimer Orgelbuch
Virginem mire pulchritudinis [Buxheimer Orgelbuch, ca. 1460-70]
Monk of Salzburg: Das guldein vingerlein des munchs / Mein trost Maria raine mait
Raitis Grigalis (voice), Sabine Lutzenberger (soprano), Marc Lewon (gittern)
anon.: Buxheimer Orgelbuch
Maria tusolacium [Buxheimer Orgelbuch, ca. 1460-70]
Wolkenstein: Ave mater o Maria