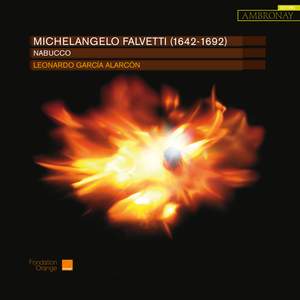 Falvetti: Nabucco
Fernando Guimarães (Nabucco), Alessandro Meerapfel (Daniele), Fabián Schofrin (Arioco), Caroline Weynants (Anania), Mariana Flores (Azaria, Idolatria), Magdalena Padilla Osvaldes (Misaele), Matteo Bellotto (Eufrate), Capucine Keller (Superbia), Keyvan Chemirani (percussions) & Kasif Demiröz [ney]
Cappella...
Michelangelo Falvetti's 1683 Sicilian dialogo Nabucco is brought to life with a dazzling variety of Italian, North African and Turkish instruments.

— More…
Contents
Fabián Schofrin, Fernando Guimarães, Alejandro Meerapfel, Mariana Flores, Magdalena Padilla Osvaldes, Matteo Bellotto, Cappella Mediterranea, Caroline Weynants, Capucine Keller, Chœur de Chambre de Namur, Leonardo García Alarcón
Superbia, Idolatria, l'Asia v'accoglie
Di Nabucco in su le chiome
Sotto aspetti sì giocondi
Itene dunque al babilonio soglio
Al trono di Nabuc sciogliamo il volo
Dialogo / Ombre timide e oscure
Sinfonia larga da sonno / Qual mole? Che veggio?
Sinfonia larga da sonno / Portento a me ignoto
Offransi Inni di laude al sommo Dio
Di mia scolpita effigie i bei splendori
Vola la Fama e con alate piume
Splenda pure al pari del Sole
Tra le vampe d'ardenti fornaci
La mia fede dal fuoco nasce
Le facelle, che qui s'accendono