UPDATE: Royal Mail have now resumed shipments on their TRACKED & SIGNED and SIGNED services but delays should be expected, please choose these services if available to you or FEDEX if your order is urgent.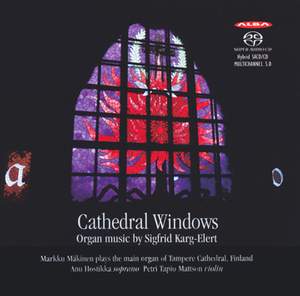 Cathedral Windows
Organ music by Sigfrid Karg-Elert
Markku Makinen (main organ of Tampere Cathedral), with Petri Tapio Mattson (violin), Anu Hostikka (soprano)
Contents
Karg-Elert: Sinfonische Kanzone, Op. 85 No. 2
I. Fantasie: Energisch, herb und gemessen
II. Kanzone: Ruhig, schlicht
III. Passacaglia: Ruhig, doch ohne zu schleppen
IV. Fuge: Ziemlich bewegt und durchaus leichtflussig
Karg-Elert: Cathedral Windows, Six Pieces on Gregorian Tunes, Op. 106
No. 3. Resonet in laudibus
Karg-Elert: 15 Variations from Mendelssohn's Variations serieuses in D Minor, Op. 54
Karg-Elert: Sinfonische Chorale, Op. 87, No. 3, "Nun ruhen alle Walder"
Petri Tapio Mattson (violin), Markku Makinen (organ), Anu Hostikka (soprano)
I. Tranquillamente e semplice (Sehr ruhevoll und romantisch)
II. Andantino (Leise bewegt)
III. Allegro agitato (Sehr unruhig und erregt)
IV. Ruhiges Choralzeitmass