UPDATE: Royal Mail have now resumed shipments on ALL International services but delays should be expected, please choose FEDEX if your order is urgent.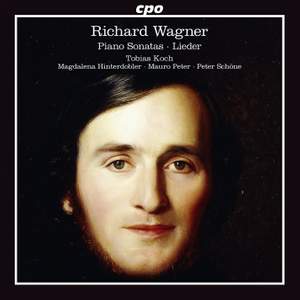 Wagner: Piano Sonatas & Lieder
Tobias Koch (pianoforte & Leitung), Mauro Peter (tenor) & Peter Schoene (bass)
Maenner-Doppelquartett des Madrigalchors der Hochschule für Musik und Theater Muenchen
Contents
Wagner: Piano Sonata in A major, Op. 4, "Grosse Sonate"
Tobias Koch (piano)
Recorded: 20–22 January 2013
Recording Venue: Bayerischer Rundfunk, Munchen, Studio 2, Germany
II. Adagio molto ed assai espressivo
Wagner: Compositions (7) on Goethe's Faust, WWV15
Peter Schone (bass), Magdalena Hinterdobler (soprano), Mauro Peter (tenor)
Munich High School for Music Madrigal Choir
Tobias Koch
Recorded: 20–22 January 2013
Recording Venue: Bayerischer Rundfunk, Munchen, Studio 2, Germany
No. 2. Bauer unter der Linde
No. 4. Lied des Mephistopheles ('Es war einmal ein Konig')
No. 5. Lied des Mephistopheles ('Was machst du mir vor Liebchens Tur')
No. 6. Gretchen am Spinnrade
Wagner: Piano Sonata in B-Flat Major, Op. 1
Tobias Koch (piano)
Recorded: 20–22 January 2013
Recording Venue: Bayerischer Rundfunk, Munchen, Studio 2, Germany
IV. Finale: Allegro vivace