US Airmail Charges: As a knock-on effect of COVID-19 airfreight prices around the world have soared. Reluctantly, we have had to pass on some of this increase in our standard airmail prices. We'll bring them down again as soon as we can!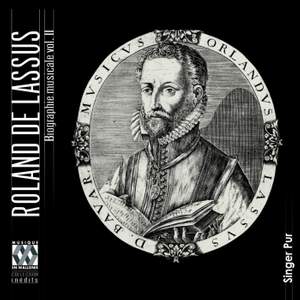 Lassus: Biographie Musicale Volume II
La gloire musicale de la Baviere - Le temps de la faveur
Experienced Lassus fans should find much that is new to them to enjoy in this second volume in particular when performances, presentation and recording are so good.

—
Contents
Lasso: Missa On me l'a dict: Gloria
2:28
Lasso: Vous qui aymés les dames blandes loquimini
1:35
Lasso: Si vous n'estes en bon poinct
2:03
Lasso: Quanta invidia ti porto avara terra
3:21
Lasso: Se si alto pon gir mie stanche rime
2:13
Lasso: O mors, quam amara est memoria tua
4:20
Lasso: Surge propera amica mea et veni
3:47
Lasso: Ave color vini clari
4:36
Lasso: Chi passa per sta strad'a e non sospira
2:43
Cristoph Eglhuber, Singer Pur
Lasso: Tant vous alles doulce Guillemette
1:22
Lasso: Magnificat supra "Tant vous allés doux"
7:30
Lasso: Vater unser im Himelreich
2:35
Lasso: Im Lant zu Wirtenberg
3:21
Lasso: Frölich zu sein ist mein manier
3:21
Lasso: Res neque ab infernis
3:09
Lasso: Sidus ex claro veniens Olympo
3:27
Lasso: Edite Cæsareo Boiorum
4:34
Michael Mantaj, Monika Mauch, Singer Pur