UPDATE: Royal Mail have now resumed shipments on their TRACKED & SIGNED and SIGNED services but delays should be expected, please choose these services if available to you or FEDEX if your order is urgent.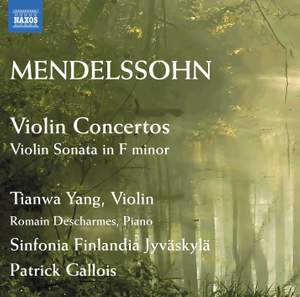 Mendelssohn: Violin Concertos
Tianwa Yang (violin), with Romain Descharmes (piano)
Sinfonia Finlandia Jyväskylä, Patrick Gallois
in Tianwa Yang...we find an artist of exceptional technique and musicianship. Above all, her tone, particularly at the extremes, on the G and E strings, is heart-meltingly beautiful, so that...

— More…
Contents
Mendelssohn: Violin Concerto in E minor, Op. 64
Tianwa Yang (violin)
Sinfonia Finlandia Jyvaskyla
Patrick Gallois
Recorded: 1-3 September 2010
Recording Venue: Hankasalmi Church, Jyvaskyla, Finland
I. Allegro molto appassionato
III. Allegretto non troppo - Allegro molto vivace
Mendelssohn: Violin Concerto in D minor, Op. post.
Tianwa Yang (violin)
Sinfonia Finlandia Jyvaskyla
Patrick Gallois
Recorded: 30, 31 August 2010
Recording Venue: Hankasalmi Church, Jyvaskyla, Finland
Mendelssohn: Violin Sonata in F minor, Op. 4
Tianwa Yang (violin), Romain Descharmes (piano)
Recorded: 15 December 2011
Recording Venue: Clara-Wieck-Auditorium, Sandhausen, Germany
I. Adagio - Allegro moderato