Business update: Our website remains open for orders. However, delays in postal and courier services mean that deliveries are currently taking longer than usual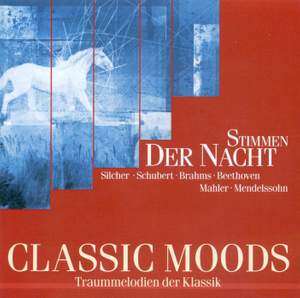 CLASSIC MOODS - SCHUBERT, F. / BRAHMS, J. / DAVID, F. / BEETHOVEN, L. van / WOLF, H. / MAHLER, G. / MENDELSSOHN, Felix / ABY, F.W. / REYER, E.
Maria Zadori (mezzo-soprano), Bruno Lazzaretti (tenor), Vessela Zorova (alto), Ekkehard Wagner (tenor), Mitsuko Shirai (mezzo-soprano), Brigitte Pretschner (alto)
Leipzig MDR Radio Choir, Hungarian State Opera Orchestra, Wernigerode Youth Radio, Berlin Radio Symphony Orchestra, St. Hedwig's...
Contents
anon.: Es loscht das Meer die Sonne aus
3:34
Leipzig MDR Radio Choir
Jörg-Peter Weigle
Schubert: Rosamunde, D. 797: No. 3b. Romanze, "Ariette"
3:36
Maria Zadori (mezzo-soprano)
Hungarian State Opera
Ádám Fischer
Paul Heyse: 7 Lieder, Op. 62
5:40
Wernigerode Youth Radio
Friedrich Krell
7 Lieder, Op. 62: No. 3. Waldesnacht
5:40
David, Félicien: Le Desert
3:50
Bruno Lazzaretti (tenor)
Berlin Radio Symphony Orchestra, St. Hedwig's Cathedral Chidrens Choir
Guido Maria Guida
Le Desert: Traum in der Dammerung
3:50
Beethoven: Hymne an die Nacht
3:04
Leipzig MDR Radio Choir
Jörg-Peter Weigle
 Excerpt,  Mahler: Des Knaben Wunderhorn (1899 version)
5:28
Vessela Zorova (alto)
Sofia Philharmonic Orchestra
Emil Tabakov
Des Knaben Wunderhorn: No. 12. Urlicht
5:28
Johann Gabriel Seidl: Nachthelle, Op. 134, D. 892
6:12
Ekkehard Wagner (tenor)
Berlin Radio Choir
Dietrich Knothe
 Excerpt,  Wolf, H: Gedichte von Eduard Mörike
2:39
Mitsuko Shirai (mezzo-soprano)
Berlin Radio Symphony Orchestra
David Shallon
Gedichte von Eduard Morike: No. 29. An den Schlaf
2:39
Brahms: In stiller Nacht (No. 42 from Deutsche Volkslieder, WoO 33)
2:25
Wernigerode Youth Radio
Friedrich Krell
 Excerpt,  Mahler: Symphony No. 3
10:08
Brigitte Pretschner (alto)
Sofia Philharmonic Orchestra
Emil Tabakov
Symphony No. 3 in D minor: IV. Zarathustras Mitternachtslied: Sehr langsam, Misterioso
10:08
 Excerpt,  Mendelssohn: A Midsummer Night's Dream - incidental music, Op. 61
3:40
WDR Sinfonieorchester Köln, Cologne Radio Chorus
Hans Vonk
A Midsummer Night's Dream, Op. 61, Act II: Melodrama: Over hill, Over Date and March of the Elves
3:40
Franz Theodor Kugler: Standchen, Op. 105, No. 4
4:42
Leipzig Radio Choir
Jörg-Peter Weigle
Bruno Lazzaretti (tenor)
Berlin Radio Symphony Orchestra
Guido Maria Guida
 Excerpt,  Wolf, H: Gedichte von Eduard Mörike
3:07
Gedichte von Eduard Morike: No. 25. Schlafendes Jesuskind
3:07
Schubert: Die Nacht, D983c
3:23
Berlin Radio Choir
Dietrich Knothe