UPDATE: Royal Mail have now resumed shipments on ALL International services but delays should be expected, please choose FEDEX if your order is urgent.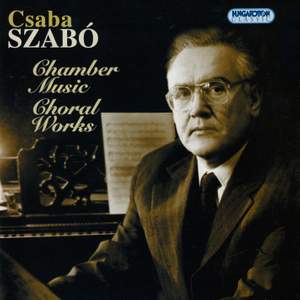 Csaba Szabó: Chamber Music and Choral Works
Laura Faragó (soprano), Márta Gál (piano), Péter Szabó (cello), Dénes Várjon (piano)
Camerata Transsylvanica, Hungarian Radio Brass Quintet, Hungarian Radio Chorus, György Selmeczi, Mátyás Antal
Contents
Szabó, C: 3 Erdelyi magyar nepdal (3 Transylvanian folk songs)
Laura Farago (soprano), Marta Gal (piano)
No. 1. Idegen orszag a hazam (My country is a foreign land)
No. 2. Ha kiindulsz Erdely felol (If you set off from Transylvania)
No. 3. A csizmamon nincsen tak (No gizmo on my boot)
Szabó, C: Cello Sonatina in C Major, "Looking Back"
Peter Szabo (cello), Dénes Várjon (piano)
Szabó, C: Passacaglia on the tune of the Kyrie eleison of János Kájoni's Székely Mass
Camerata Transsylvanica
Gyorgy Selmeczi
Szabó, C: Sonata for Brass Quintet and Tape Recorder
Hungarian Radio Brass Quintet
Matyas Antal
Hungarian Radio Chorus
Jozsef Maklari
Szerelmi dalok: No. 1. Ropulj, kicsi madar - No. 2. Edes rozsam - No. 3. Jaj, de mely a Tisza vize
Szabó, C: Menyasszony-tancoltato (Bride Dancers)
Hungarian Radio Chorus
Jozsef Maklari
Szabó, C: Hazas enekek (Marriage Songs)
Hungarian Radio Chorus
Jozsef Maklari
Szabó, C: 5 Madrigal regi erdelyi latin koltok verseire (5 madrigals to Latin texts of old Transylvanian poet)
Hungarian Radio Chorus
Lajos Vass
No. 1. Piroskahoz (To Piroska)
No. 2. Erzsikehez (To Erzsike)
No. 3. Sirato Janus Pannoniusrol (Janus Pannonius' Lament)
No. 4. Dozsa Gyorgy buzdito beszede (Gyorgy Dozsa's heartening words)
No. 5. Bocskai Istvanhoz (To Istvan Bocskai)