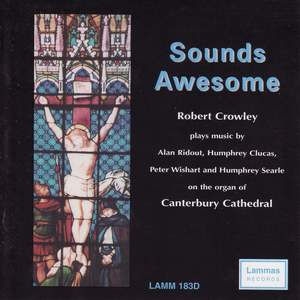 Sounds Awesome
Robert Crowley plays the music of Alan Ridout and others
Robert Crowley (organ of Canterbury Cathedral)
Contents
Ridout, A: St. Thomas Honour We: Prelude
Ridout, A: The Seven Last Words
I. "Father, forgive them: for they know not what they do"
II. "Woman, behold thy son...Behold thy mother"
III. "My God, my God, why hast thou forsaken me?"
IV. "Verily I say unto thee: Today shalt thou be with me in paradise"
VII. "Father, into thy hands I commend my spirit"
Clucas: Symphony for Organ
Wishart, P: Pastorale and Fughetta
Searle: Cyprus Dances, Op 76