UPDATE: Royal Mail have now resumed shipments on ALL International services but delays should be expected, please choose FEDEX if your order is urgent.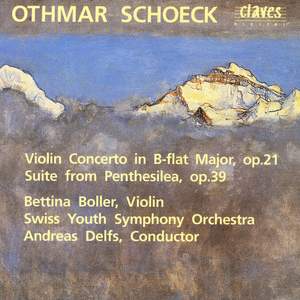 Schoeck: Violin Concerto & Penthesilea Suite
Bettina Boller (violin)
Swiss Youth Symphony Orchestra, Andreas Delfs
Contents
Schoeck: Violin Concerto in B-Flat Major, Op. 21 "Quasi Una Fantasia"
Bettina Boller
Swiss Youth Symphony Orchestra
Andreas Delfs
II. Grave non troppo lento
Andreas Delfs, Othmar Schoeck: Suite from the Opera "Penthesilea"
Swiss Youth Symphony Orchestra
Andreas Delfs