UPDATE: Royal Mail have now resumed shipments on their TRACKED & SIGNED and SIGNED services but delays should be expected, please choose these services if available to you or FEDEX if your order is urgent.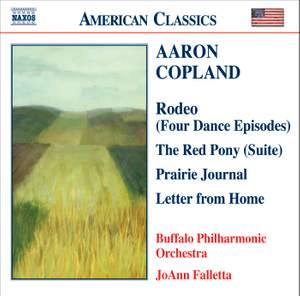 American Classsics - Copland
Buffalo Philharmonic Orchestra, JoAnn Falletta
Some discs are recommendable just because they present appealing, well-played programs in good sound at a great price. In such cases, comparisons are not the issue; we can enjoy them as a concert...

— More…
Contents
Copland: Music for Radio: Saga of the Prairie, "Prairie Journal"
Buffalo Philharmonic Orchestra
JoAnn Falletta
Copland: Rodeo (Four Dance Episodes)
Buffalo Philharmonic Orchestra
JoAnn Falletta
No. 3. Saturday Night Waltz
Copland: Letter from Home
Buffalo Philharmonic Orchestra
JoAnn Falletta
Copland: The Red Pony – Film Music (Suite)
Buffalo Philharmonic Orchestra
JoAnn Falletta
IV. Walk to the Bunkhouse