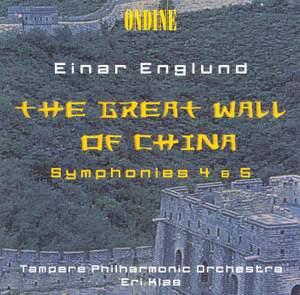 Englund: Symphony No. 4, etc.
Tampere Philharmonic Orchestra, Eri Klas
The Fifth Symphony (1977) was recorded on LP by Jukka-Pekka Saraste; Englund once said this was too fast, so he would probably have approved of Klas's better-judged version. Although titled Sinfonia...

— More…
Contents
Englund: Symphony No. 4, "Nostalgic"
25:25
Tampere Philharmonic Orchestra
Eri Klas
Recorded: February-March 2000
Recording Venue: Tampere Hall, Tampere, Finland
II. Tempus fugit: Allegro assai
4:17
IV. Intermezzo: Allegretto grazioso - Epilogue: Adagio
7:04
Englund: Symphony No. 5, "Fennica"
18:55
Tampere Philharmonic Orchestra
Eri Klas
Recorded: February-March 2000
Recording Venue: Tampere Hall, Tampere, Finland
Englund: The Great Wall of China Suite
20:03
Tampere Philharmonic Orchestra
Eri Klas
Recorded: February-March 2000
Recording Venue: Tampere Hall, Tampere, Finland
II. Masquerade in a Chinese Garden
1:55
VI. March a la Shostakovich
2:06