Latest update: COVID-19 Shipping Delays. Presto is committed to the health and well-being of our staff. Our warehouse team are currently working hard to ensure your order is despatched as quickly as possible. Unfortunately you may experience slight delays as some deliveries are taking longer than usual. Thank you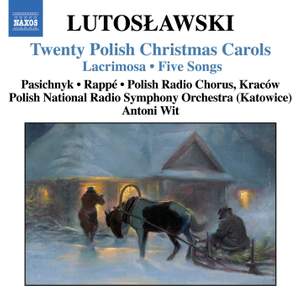 Lutosławski: Twenty Polish Christmas Carols, etc.
Olga Pasichnyk, Jadwiga Rappé
Polish Radio Chorus, Kraców, Polish National Radio Symphony Orchestra (Katowice), Antoni Wit
The faster carols have the same sort of energy and modality that you find in Kodály… it's a lovely collection of pieces for dipping into, and they're affectionately performed and recorded.

—
Contents
Lutosławski: Polish Christmas Carols
40:06
Olga Pasichnyk (soprano)
Polish Radio Choir, Polish National Radio Symphony Orchestra
Antoni Wit
Angels to the shepherds came
2:01
When the Christ to us is born
2:04
Hey la, Hey la, shepherds there you are
2:28
What to do with this child?
1:44
Hey, hey lovely Lady Mary
2:23
This is our Lord's birthday
1:55
Olga Pasichnyk (soprano)
Polish Radio Choir, Polish National Radio Symphony Orchestra
Antoni Wit
Jadwiga Rappé (alto)
Polish National Radio Symphony Orchestra
Antoni Wit