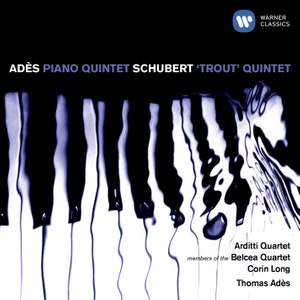 Adès: Piano Quintet, etc.
Thomas Adès (piano) & Corin Long (Double Bass)
Arditti Quartet
Thomas Adès features both as composer and pianist on this release: two piano quintets which, though composed 182 years apart, are equally alive with formal and expressive provocations.
That said,... — More…
Gramophone Magazine

August 2005

Editor's Choice
Contents
Arditti Quartet (performed by), Thomas Adès (piano)
Recorded: 2002-07-04
Recording Venue: 3 & 4 July 2002. Snape Maltings, Suffolk.
Schubert: Piano Quintet in A major, D667 'The Trout'
Alasdair Tait (cello), Corin Long (double bass), Corina Belcea (violin), Krzysztof Chorzelski (viola), Thomas Adès (piano), Krysztof Chorzelski (viola)
Recorded: 2004-09-09
Recording Venue: 8 & 9 September 2004. Potton Hall, Suffolk.