US Airmail Charges: As a knock-on effect of COVID-19 airfreight prices around the world have soared. Reluctantly, we have had to pass on some of this increase in our standard airmail prices. We'll bring them down again as soon as we can!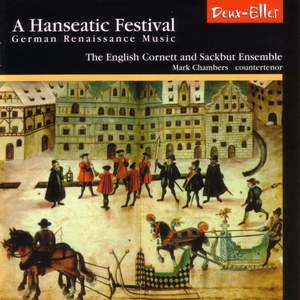 Offer

,

 A Hanseatic Festival
The music of the Stadtpfeifer played a vital role in the life of early 17th century Germany. This disc features music from this period based around the theme of the winter festival.
English Cornett and Sackbut Ensemble
Contents
Scheidt: Canzon super O Nachbar Roland
5:58
The English Cornett and Sackbut Ensemble, Mark Chambers
Albert, H: Bekehrung zum Herren Christo
4:58
The English Cornett and Sackbut Ensemble, Mark Chambers
Schildt: Paduana Lachrymae
6:12
The English Cornett and Sackbut Ensemble, Mark Chambers
Scheidt: Nun komm der Heiden Heiland
4:30
The English Cornett and Sackbut Ensemble, Mark Chambers
The English Cornett and Sackbut Ensemble, Mark Chambers
The English Cornett and Sackbut Ensemble, Mark Chambers
The English Cornett and Sackbut Ensemble, Mark Chambers
Mertelius: Cancio Germanica
2:42
The English Cornett and Sackbut Ensemble, Mark Chambers
Scheidt: Ach mein herzliebes Jesulein
4:28
The English Cornett and Sackbut Ensemble, Mark Chambers
Schop, J: Das alst ist abgegangen
3:43
The English Cornett and Sackbut Ensemble, Mark Chambers
The English Cornett and Sackbut Ensemble, Mark Chambers
Simpson, T: Bonny Sweet Robin, ricercar from Taffel-consort (1621)
3:33
The English Cornett and Sackbut Ensemble, Mark Chambers
Praetorius: In dulci jubilo
2:39
The English Cornett and Sackbut Ensemble, Mark Chambers
The English Cornett and Sackbut Ensemble, Mark Chambers
Altenburg: Ein wunderschönes Kinderlein
5:08
The English Cornett and Sackbut Ensemble, Mark Chambers