UPDATE: Royal Mail have now resumed shipments on their TRACKED, TRACKED & SIGNED and SIGNED services but delays should be expected, please choose these services if available to you or FEDEX if your order is urgent.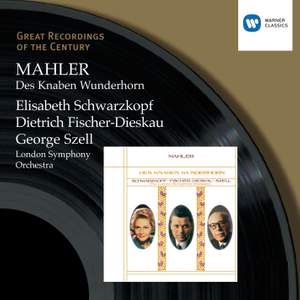 Mahler: Des Knaben Wunderhorn (1901 version)
Elisabeth Schwarzkopf (soprano), Dietrich Fischer-Dieskau (baritone)
London Symphony Orchestra, George Szell
EMI's classic recording made in 1968 more or less puts all rivals out of court.
Even those who find Schwarzkopf's singing mannered will be hard pressed to find more persuasive versions of the... — More…
Contents
Mahler: Lieder aus 'Des Knaben Wunderhorn' (2000 Digital Remaster)
George Szell/London Symphony Orchestra/Elisabeth Schwarzkopf/Dietrich Fischer-Dieskau
Recorded: 1968-03-09
Recording Venue: 8/9 March 1968, Kingsway Hall, London
Der Schildwache Nachtlied
Wer hat dies Liedlein erdacht?
Des Antonius von Padua Fischpredigt
Lied des Verfolgten im Turm
Wo die schönen Trompeten blasen