Latest update: COVID-19 Shipping Delays. Presto is committed to the health and well-being of our staff. Our warehouse team are currently working hard to ensure your order is despatched as quickly as possible. Unfortunately you may experience slight delays as some deliveries are taking longer than usual. Thank you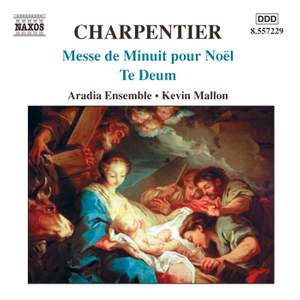 Charpentier, M-A: Messe de minuit pour Noël, etc.
Aradia Ensemble, Kevin Mallon
Mallon's solo team, drawn from the choir, stands up to the competition remarkably well, as does the lithe orchestral playing, Some choral movements sound slightly under-powered, but that's...

— More…
Contents
 Excerpt,  Charpentier, M-A: Te Deum, H146
22:07
David Nortman (tenor), Jane Archibald (soprano), Michele de Boer (soprano), Anne L'Esperance (soprano), James McLennan (tenor), Marion Newman (mezzo-soprano), Nancy Reynolds (alto), Estaban Cambre (bass), Giles Tomkins (bass-baritone), Colin Ainsworth (tenor)
Aradia Ensemble
Kevin Mallon
Recorded: 03 - 06 January 2003
Recording Venue: Grace Church on the Hill, Toronto, Canada
Charpentier, M-A: Psalm 109, H. 204, "Dixit Dominus"
8:58
Colin Ainsworth (tenor), Jane Archibald (soprano), Anne L'Esperance (soprano), Marion Newman (mezzo-soprano), Nancy Reynolds (alto), Estaban Cambre (bass), Michele de Boer (soprano), James McLennan (tenor), David Nortman (tenor), Giles Tomkins (bass-baritone)
Aradia Ensemble
Kevin Mallon
Recorded: 03 - 06 January 2003
Recording Venue: Grace Church on the Hill, Toronto, Canada
Charpentier, M-A: Noel: A minuet fut fait un reveil, H. 9
28:44
Marion Newman (mezzo-soprano), David Nortman (tenor), Estaban Cambre (bass), Giles Tomkins (bass-baritone), Colin Ainsworth (tenor), Nancy Reynolds (alto), Anne L'Esperance (soprano), James McLennan (tenor), Michele de Boer (soprano), Jane Archibald (soprano)
Aradia Ensemble
Kevin Mallon
Recorded: 3 - 6 January 2003
Recording Venue: Grace Church on the Hill, Toronto, Canada
(Kyrie) Noel: Joseph est bien marie - Kyrie eleison - Noel: Et sy je la revoy - Christe eleison - Une jeune pucelle - Kyrie eleison
7:58
Noel: Laissez paitre vos betes
1:41