UPDATE: Royal Mail have now resumed shipments on ALL International services but delays should be expected, please choose FEDEX if your order is urgent.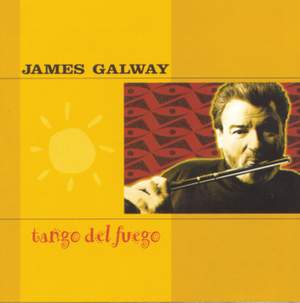 Tango del Fuego
Sensuous latin jazz meets the superb sound of the most acclaimed flutist of our time, swinging from salsa to tango to samba.
James Galway (flute) et al.
Contents
Armando Anthony Corea, Joaquín Rodrigo Vidre: Spain
James Galway (flute), Neil Angilley (piano), Laurence Cottle (bass), Ian Thomas (drums), Gary Hammond (congas), Gary Hammond (shaker)
James Galway (flute), Davida Battista (percussion), Sid Gauld (trumpet), Steve Sidwell (trumpet), Jamie Talbot (baritone saxophone), Dave O'Higgins (tenor saxophone), Mike Smith (alto saxophone), Dave Pattman (percussion), Dave Pattman (bongos), Bosco De Oliveira (triangle), Bosco De Oliveira (percussion), Bosco De Oliveira (congas), Ian Thomas (drums), Laurence Cottle (bass), Neil Angilley (piano), Mark Nightingale (trombone)
Jobim: The Girl from Ipanema
James Galway (flute), Mike Mower (flute), Neil Angilley (piano), Laurence Cottle (bass), Ian Thomas (drums), Bosco De Oliveira (congas), Dave Pattman (bongos), Dave Pattman (percussion)
Beckenstein: Morning Dance
James Galway (flute), Gary Hammond (shaker), Sid Gauld (trumpet), Steve Sidwell (trumpet), Jamie Talbot (baritone saxophone), Dave O'Higgins (tenor saxophone), Mike Smith (alto saxophone), Bosco De Oliveira (percussion), Gary Hammond (triangle), Gary Hammond (congas), Ian Thomas (drums), John Parricelli (electric guitar), Laurence Cottle (bass), Neil Angilley (piano), Mark Nightingale (trombone)
James Galway (flute), Mark Nightingale (trombone), John Parricelli (guitar), Neil Angilley (piano), Laurence Cottle (bass), Ian Thomas (drums), Dave Pattman (bongos)
James Galway (flute), Neil Angilley (piano), Laurence Cottle (bass), Ian Thomas (drums)
James Galway (flute), David Alberman (violin), Levine Andrade (viola), Andrew Shulman (cello), Alan Dunn (accordion), Clio Gould (violin)
James Galway (flute), Bosco De Oliveira (percussion), Steve Sidwell (fluegelhorn), Sid Gauld (fluegelhorn), Jamie Talbot (bass clarinet), Dave O'Higgins (tenor saxophone), Mike Smith (alto saxophone), Dave Pattman (percussion), Davida Battista (percussion), Bosco De Oliveira (congas), Ian Thomas (drums), Laurence Cottle (bass), Neil Angilley (piano), Mark Nightingale (trombone)