After studying at the Bordeaux Conservatoire, Natalie Dessay was awarded first prize (Premier Prix de Concours) in the competition 'Les Voix Nouvelles', run by France-Telecom. She then studied for one year at Paris Opera's Ecole d'Art Lyrique, where she sang Elisa in Mozart's Il Re Pastore, and, on the advice of Jean-Pierre Brossmann, entered the International Mozart Competition at the Vienna Staatsoper, winning first prize.
In April and May 1992 at the Opéra Bastille, she sang the role of "Olympia" in The Tales of Hoffmann with José van Dam. The Roman Polanski production was not well received, but it began the road to stardom for Dessay.
Further Reading:
Natalie Dessay
17th January 2011
Dessay trails her imminent performances of Cleopatra in Giulio Cesare in Paris by recording all of the Egyptian queen's arias with Le Concert d'Astrée and Emmanuelle Haïm, whilst Damrau is sensual in Strauss Lieder with Christian Thielemann.
Recent Best Sellers:
Natalie Dessay
New Releases:
Natalie Dessay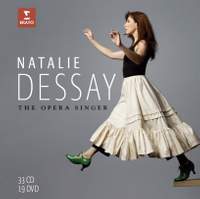 33 CDs + 19 DVD Videos:
$224.75