17th March 2023
New Release Round-up

,

New Release Round-Up - 17th March 2023
Today's new releases include Mozart string quintets from Quatuor Ebène and Antoine Tamestit, Haydn's Stabat Mater from Kammerorchester Basel, the Zürcher Sing-Akademie and René Jacobs, a golden anniversary compilation of encores and transcriptions from the Brodsky Quartet, and the world premiere recording of Porpora's 1738 opera Carlo il Calvo (starring Franco Fagioli, Julia Lezhneva, Max Cencic and Bruno de Sá) from Armonia Atenea and George Petrou.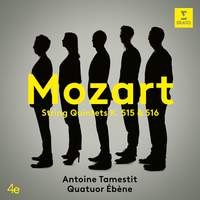 Quatuor Ebène, Antoine Tamestit (viola)
Tamestit was one of the Quatuor Ebène's distinguished guests for Schoenberg's Verklärte Nacht on their Gramophone Award-winning 'round Midnight in 2021, and now they team up again for Mozart's String Quintets Nos. 3 & 4, composed within a month of one another in the spring of 1787. Reviewing their performance of No. 3 at Wigmore Hall in 2013, BachTrack opined that 'its long arching phrases were captured brilliantly here by the Ebène Quartet and viola player Antoine Tamestit, who brought out not just the work's luminous elements but also its darker, wistful undercurrents.'
Available Formats: CD, MP3, FLAC, Hi-Res FLAC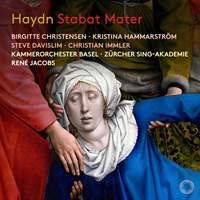 Birgitte Christensen (soprano), Kristina Hammarström (mezzo), Steve Davislim (tenor), Christian Immler (bass-baritone), Kammerorchester Basel, Zürcher Sing-Akademie, René Jacobs
Following an acclaimed set of the Schubert symphonies on Pentatone, the Belgian conductor turns to Haydn's Pergolesi-influenced setting of the Stabat Mater, originally composed in 1767; Jacobs uses the 1803 edition of the score which Haydn prepared in collaboration with his apprentice Sigismund Neukomm (who would go on to make new arrangements of The Seasons and The Creation), scored for a larger wind section.
Available Formats: CD, MP3, FLAC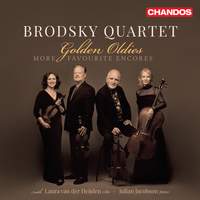 Brodsky Quartet, with Laura van der Heijden (cello), Julian Jacobson (piano)
Formed before its founder-members were even in their teens, the Brodsky Quartet celebrated its fiftieth birthday last year, and has made something of a tradition of marking each ten-year milestone with a compilation-album; highlights from this golden anniversary playlist include arrangements of Debussy Préludes (by viola-player Paul Cassidy), Bazzini's Ronde des lutins (by cellist Jacqueline Thomas), and three Satie Gnossiennes (by leader Krysia Osostowicz).
Available Formats: CD, MP3, FLAC, Hi-Res FLAC, Hi-Res+ FLAC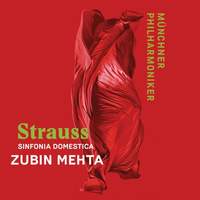 Münchner Philharmoniker, Zubin Mehta
This live recording of Strauss's tone-poem depicting his own family life was made at Munich's Isarphilharmonie in November 2021 (a month after the venue opened to serve as the orchestra's temporary home whilst the Gasteig undergoes renovation); BachTrack applauded 'the way Mehta gleefully gave in to [the] showy, even show-offy side of its personality while simultaneously keeping its truly symphonic progress in his sights' and noted that the acoustic 'undoubtedly gave a sonorous boost to its many exhilarating climaxes'.
Available Formats: CD, MP3, FLAC, Hi-Res FLAC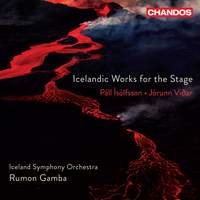 Iceland Symphony Orchestra, Rumon Gamba
This programme of ballet and incidental music from the mid-twentieth century spotlights two Icelandic composers: Páll Ísólfsson (1893-1974) and Jórunn Viðar (1928-2017). The former is represented by his music for the early Ibsen play Veislan á Sólhaugum ('The Feast at Solhaug') and Úr Myndabók Jónasar Hallgrímssonar ('From Jónas Hallgrímsson's Picture Book'), the latter by the suites from her 1950 ballet Eldur ('Fire') and its successor Ólafur Liljurós (premiered in a double-bill with Menotti's The Medium in 1952).
Available Formats: SACD, MP3, FLAC, Hi-Res FLAC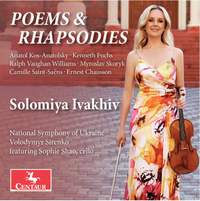 Solomiya Ivakhiv (violin), Sophie Shao (cello), National Symphony Orchestra of Ukraine, Volodymyr Sirenko
The Ukrainian-born violinist is joined by cellist Sophie Shao (her colleague at the University of Connecticut) for the opening work here, Saint-Saëns's La Muse et le Poète from 1909; the programme also includes Chausson's Poème, Vaughan Williams's The Lark Ascending, Kos-Anatolsky's Poem for Violin & Orchestra, Kenneth Fuchs's American Rhapsody and Skoryk's Carpathian Rhapsody. Ivakhiv received the title of Honored Artist of Ukraine from President Zelenskyy in 2021.
Available Formats: MP3, FLAC, Hi-Res FLAC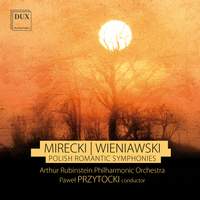 Arthur Rubinstein Philharmonic Orchestra, Paweł Przytocki
Born in Kraków in 1791, Franciszek Mirecki studied with Hummel in Vienna (where he also met Beethoven) and subsequently in Venice and Milan, devoting most of his energies to opera; this album opens with his sole surviving symphonic composition, the Symphony in C from the mid-1850s. Józef Wieniawski (younger brother of the violinist-composer Henryk, and a pupil of Franz Liszt) published his Symphony in D in Brussels in 1890.
Available Format: CD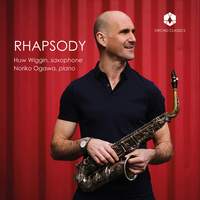 Huw Wiggin (saxophone), Noriko Ogawa (piano)
Wiggin's second full-length album for Orchid Classics opens with Vincent David's arrangement of Debussy's Rapsodie pour orchestra et saxophone, and includes world premiere recordings of several newly-commissioned works: Iain Farrington's Paganini Patterns, Joseph Phibbs's Night Paths, and Jennifer Watson's Rhapsody on an Echo Chamber. Eric Coates's Saxo-Rhapsody and Farrington's transcription of Liszt's Hungarian Rhapsody No. 2 in C sharp minor complete the programme.
Available Formats: CD, MP3, FLAC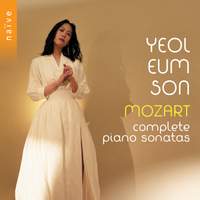 The South Korean pianist makes her debut on Naive with a set of works which she describes as 'speak[ing] of both sunshine and eternal night, extremes of heat and cold, elegance and farce'. A silver medallist at the International Tchaikovsky Competition and Van Cliburn International Piano Competition, Son was nominated for an International Classical Music Award for her Kapustin album on Onyx in 2021, and her recording of Mozart's Piano Concerto No. 21 with Sir Neville Marriner and the Academy of St Martin in the Fields was described as 'an uncommonly fine Mozartian debut' by Gramophone.
Available Format: 6 CDs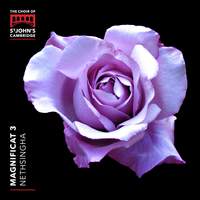 Choir of St John's College Cambridge, George Herbert, Andrew Nethsingha
This third volume of the choir's acclaimed Evening Canticles series focuses largely on music written between 1945 and 1965, including Howells's St Paul's Service (1950) and Westminster Service (1957), Dyson's Magnificat & Nunc Dimittis in F (1945), and Leighton's Collegium Magdalenae Oxonienses (1960). Also features the world premiere recording of Philip Moore's St John's Service, commissioned by Nethsingha's predecessor David Hill in 2006 and dedicated to former college Organ Scholar John Scott.
Available Format: CD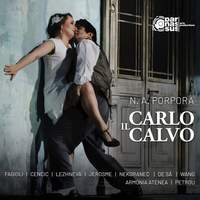 Franco Fagioli (Adalgiso), Max Emanuel Cenčić (Lottario), Julia Lezhneva (Gildippe), Suzanne Jerosme (Giuditta), Petr Nekoranec (Asprando), Bruno de Sá (Berardo), Nian Wang (Eduige); Armonia Atenea, George Petrou
This is the world premiere recording of Porpora's 1738 opera seria, depicting the childhood of Charles the Bald (823-877) and focusing on the machinations of his elder half-brother Lottario (Charlemagne's grandson) to prevent his eventual accession to the throne. Premiered at the Margravial Opera House as part of the Bayreuth Baroque Opera Festival in 2020, the production was praised by OperaWire for Petrou's 'textural clarity, rhythmic vitality, and attentiveness to the dramatic shifts of the narrative' and for Lezhneva's 'standout performance' as Gildippe.
Available Format: 3 CDs
Vasilisa Berzhanskaya (Isabella), Alisdair Kent (Lindoro), Ricardo Seguel (Mustafà), Pablo Ruiz (Taddeo), Lilian Farahany (Elvira), Esther Kuiper (Zulma), José Coca Loza (Haly); Orchestra of the 18th Century, La Cetra Vokalensemble Basel, Giancarlo Andretta
This live recording of the 21-year-old Rossini's culture-clash comedy was made at the Concertgebouw last February, with Russian mezzo Vasilisa Berzhanskaya heading the cast in one of her signature-roles - an alumna of the Bolshoi studio and winner of the Young Singer of the Year Prize at the 2020 International Opera Awards, Berzhanskaya's repertoire also includes Bellini's Norma, Rossini's Semiramide and even Mozart's Queen of the Night!
Available Formats: 2 CDs, MP3, FLAC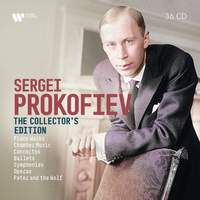 Released to commemorate the seventieth anniversary of Prokofiev's death, this collection includes Rostropovich's recording of the Cello Sonata (composed for him in 1949), the Violin Concertos with Itzhak Perlman and David Oistrakh, Peter and the Wolf narrated by Peter Ustinov, and a 1986 studio recording of War and Peace (conducted by Rostropovich and featuring Galina Vishnevskaya as Natasha and Nicolai Gedda as Anatol).
Available Format: 36 CDs