UPDATE: Royal Mail have now resumed shipments on ALL International services but delays should be expected, please choose FEDEX if your order is urgent.
6th December 2022
Interview

,

Christopher Gray on Russell Pascoe's Secular Requiem
From the fire and brimstone of Verdi to the comforting warmth of Fauré, Requiems have drawn a range of musical approaches from composers seeking to respond to human mortality, and in particular the inspiration of religious rituals around death. Many works, too, take the genre in new directions - often questioning, subverting or simply omitting elements of its religious heritage - Brahms's German Requiem and Britten's War Requiem spring to mind.
One logical outcome of this sceptical trend is the emergence of a fully secular "Requiem", with the last explicit ties to Christianity and its funerary rites severed. Russell Pascoe's Secular Requiem, recently recorded by the Choir of Truro Cathedral under Christopher Gray, is just such a work - drawing not on the text of the Requiem Mass inherited from Roman Catholicism but on a wide variety of poetry, some of it with a spiritual inclination and some not. I spoke to Christopher about how this work came about, and what it might suggest for the future of church music in an increasingly de-institutionalised age - as well as his freshly-announced appointment as the next Director of Music at St John's, Cambridge.
Ever since Brahms, classical composers have been experimenting with taking the Requiem away from its Catholic origins in a variety of new and less religiously orthodox directions. Do you think the various newer approaches share any kind of common consensus about what a Requiem can mean?
It's not surprising that requiems inspire some of the most profound writing from composers. Death causes us to reflect on the deepest of issues: our own mortality, and the loss of loved ones. Requiems are therefore inevitably highly personal and often grand statements, but ones that have historically been made through a Christian lens. Even non-believers like Brahms use Christian texts in their requiems, albeit not always the traditional Requiem Mass words; and in Britten's War Requiem, the vivid, unvarnished reality of Wilfred Owen's poetry cuts through the ancient Latin texts like a hot knife through butter. I don't see a common consensus except that each composer is trying to articulate what death means to them: different life experiences, different messages, different musical responses.
A range of emotions, from grief to anger and even fear, is not unusual in music concerned with the departed. Even so, the homely humour of Stephen Anderton's Cats and Cakes sticks out – how does this movement fit into the work's overall trajectory?
Well it's a bit inappropriate, to be honest; but humour around death often is. The main thing for me is the deliberately jarring mood change from the previous movement: 'Tis the last rose of summer' ends with the hopeless rhetorical question 'O who would inhabit this bleak world alone?'; then it's straight into 'Cats and Cakes'. This juxtaposition is an example of the honesty of the Secular Requiem in representing what grief is really like. 'Cats and Cakes' is followed by 'Peace, my heart' as the overarching narrative gently tugs us back. A bit like Britten's War Requiem, which I've already mentioned, some of the power of Russell's Secular Requiem comes from the way it unfolds, the large-scale planning. The humour of 'Cats and Cakes' prepares the way for the ultimately positive way the work ends, celebrating the cycle of life. Maybe it wasn't the serious stuff that really mattered in the end.
Christopher Gray, Russell Pascoe and members of the girls' and boys' choirs of Truro Cathedral share their thoughts on the process of making this recording.
You mention that your own spiritual beliefs don't always align with Pascoe's. Even so, do you think there's anything that sacred music could learn from his approach?
Yes indeed. Russell's music comes out of his colourful and rich life experience in a real and sometimes gritty way. He did not simply accept the established Requiem traditions but worked with Anthony Pinching to craft a message that was true to his own beliefs. I think the church is well served by composers who are imaginative and brave in seeking similar authenticity that may be challenging and found outside the usual box.
You've just been appointed as the next Director of Music at St John's College, Cambridge – what kinds of things are you looking forward to in that role, and what will you miss the most from Truro?
I will miss virtually everything about Truro and Cornwall: having been here for over 22 years, it is where most of my closest friends are; and of course it's such a wonderful part of the world to live, in all sorts of ways. Despite having been here for so long, my admiration and respect for what the boys, girls, Lay Vicars and Choral Scholars of the cathedral choir achieve on a daily basis has never dimmed. It is inspiring to see the sacrifices they and their families make in order to keep the wonderful choral tradition alive and flourishing at Truro – it's almost surreal that such a cultural asset exists right down near the end of the train line!
St John's will bring different opportunities and challenges, and sometimes that sort of change is a good thing in life. I have always found the musicianship of St John's College Choir compelling, since my undergraduate days when I regularly made the ten-minute trek from Pembroke College to experience Evensong in Christopher Robinson's time. There will be a different dynamic with the university-aged back row which I know has its own esprit de corps. Also, working in a university college will be fascinating, especially one known for being so friendly.
The launch event for the Secular Requiem recording was streamed from Truro Cathedral on 18th November, including live performances of excerpts. Opening remarks begin at 1:50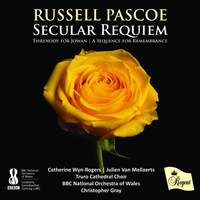 Catherine Wyn-Rogers (mezzo-soprano), Julien Van Mellaerts (baritone), Truro Cathedral Choir, BBC National Orchestra of Wales, Christopher Gray
Available Format: CD