28th December 2021
 Box Set Selections

,

  Boxed Set Selections - December 2021
End-of-year heavyweights include Erich Kleiber's complete recordings for Decca, Italian pianist Alessandro Marangoni's survey of Rossini's 'sins of old age', a boundary-crossing anthology of Yo-Yo Ma albums, and a thirtieth-anniversary celebration of the Praga label, featuring Czech chamber music from the Prazák and Kocian Quartets and Russian repertoire from Evgeny Mravinsky and the Leningrad Philharmonic Orchestra.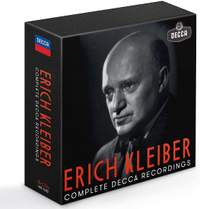 Released to mark the 65th anniversary of Kleiber's death, this set ranges from the early '78s made in the late 1940s and 50s to the last recording he made: 'Die Schlittenfahrt' from Mozart's Three German Dances K605. Includes complete recordings of Le Nozze di Figaro and Der Rosenkavalier, symphonies by Mozart, Beethoven, Tchaikovsky and Weber, and a bonus audio documentary presented by Jon Tolansky (featuring Kleiber's recollections of the premiere of Berg's Wozzeck, which he conducted in 1925).
Available Format: 15 CDs
Originally conceived as a 100th birthday celebration (Gitlis himself reviewed and approved all of the remasterings in the last years of his life), this collection now stands as a memorial to the great Israeli violinist, who died last December aged 98. Repertoire includes Beethoven's Kreutzer Sonata with Martha Argerich, Tchaikovsky's Piano Trio 'In Memory of a Great Artist' with Steven Isserlis and Nelson Goerner, and concertos by Sibelius, Beethoven, Viotti, Paganini and Brahms.
Available Format: 9 CDs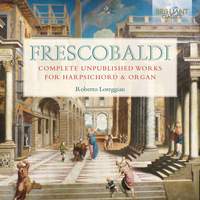 Roberto Loreggian (harpsichord/organ)
Loreggian has impressive form with Frescobaldi's music, having already recorded the complete published keyboard works for Brilliant Classics. On this collection of unpublished toccatas, canzonas, correntes, sonatas and ricercares (discovered in manuscript collections across Europe) he showcases the special qualities of two superb Italian instruments: the modern Zanin organ of the Chiesa di Santa Caterina in Treviso and the sixteenth-century organ of the Basilica palatina di Santa Barbara in Mantova.
Available Format: 6 CDs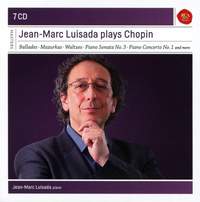 Jean-Marc Luisada (piano)
Made for RCA in the late 1990s and early 2000s, this collection of Chopin recordings from the Tunisian-born French pianist (who took fifth prize at the XI International Chopin Piano Competition in 1985) includes the piano/sextet version of the Piano Concerto No. 1, the solo piano version of the Andante spianato & Grande Polonaise, the Four Ballades, the Piano Sonata No. 3, and the complete mazurkas.
Available Format: 6 CDs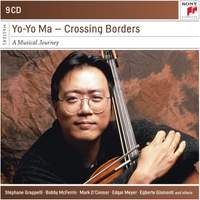 This anthology brings together nine acclaimed albums which testify to the American cellist's passion for thinking outside the classical box: the Cole Porter disc Anything Goes (featuring Stéphane Grappelli), Claude Bolling's Suite for Cello and Jazz Piano Trio, the Bobby McFerrin collaboration Hush, Appalachia Waltz, Appalachia Journey, the Piazzolla album Soul of the Tango, Obrigado Brazil, Silk Road Journeys, and Japanese Melodies.
Available Format: 9 CDs
Dmitri Alexeev's Scriabin series (begun in 2008) has been widely praised, with Fanfare recently musing that 'I would not be surprised to hear that Alexeev kept scores of Scriabin under his pillow' and Gramophone noting that 'his temperamental affinity...comes paired with sovereign command of colours and intonations (in the Russian sense of musical eloquence)'.
Available Format: 8 CDs
Bach Collegium Stuttgart, Gachinger Kantorei Kammerchor Stuttgart, Helmuth Rilling, Frieder Bernius
As well as complete CD recordings of The Creation (conducted by Helmuth Rilling, with soloists Christiane Schäfer, Michael Schade and Andreas Schmidt), The Seasons, The Seven Last Words of Christ, the 4 Responsoria de Venerabili and the Ave Regina, this set includes a bonus DVD of The Seasons, filmed in the early 1990s for German TV.
Available Formats: CD + DVD Video, MP3, FLAC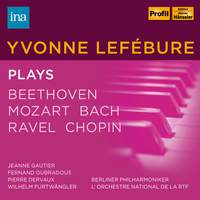 Made between 1935 and 1959, this collection of recordings from the French pianist and teacher includes Beethoven's Diabelli Variations and late piano sonatas, Mozart's Piano Concerto No. 20 (with the Berliner Philharmoniker and Wilhelm Furtwängler), Debussy's La boîte à joujoux with Pierre Bertin, Roussel's Three Pieces Op. 49, and Dukas's Variations, Interlude et Finale sur un Thème de Rameau.
Available Formats: 5 CDs, MP3, FLAC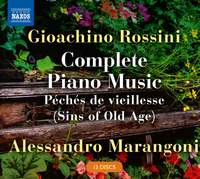 Alessandro Marangoni (piano)
Marangoni embarked on his mission to record Rossini's Sins of Old Age in their entirety back in 2006; the first instalment was enthusiastically greeted by American Record Guide, who noted that 'he has a beautiful legato touch and a keen sense of phrasing-both qualities absolutely essential for this music'. You can read Katherine's in-depth interview with Alessandro about how the piano 'became Rossini's new special confidant' after his retirement from opera here.
Available Format: 13 CDs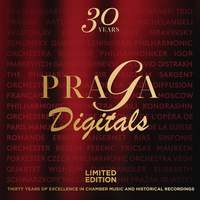 Founded in 1991 by musicologist and sound-engineer Pierre-Émile Barbier, the Praga label has two main specialisms: Czech chamber music and the remastering of historical recordings. This set celebrates both the label's thirtieth anniversary and its acquisition by Little Tribeca (which also owns Aparté and Evidence) this year following Barbier's death in 2018; includes Janáček, Dvořák, Schulhoff and Shostakovich from the Prazák Quartet, Smetana and Suk from the Guarneri Trio Prague, and Bartók, Stravinsky, Prokofiev and Tchaikovsky from Evgeny Mravinsky and the Leningrad Philharmonic Orchestra.
Available Format: 30 CDs