16th June 2021
 Interview

,

  Antonio Pappano on Vaughan Williams and Strauss
Back in April the Presto team were blown away by Antonio Pappano's new account of Vaughan Williams' Fourth and Sixth symphonies – difficult works born out of difficult times. The recordings, both live, captured the atmosphere of our own challenging and unusual times, with one occuring on the very eve of the UK's first COVID-19 lockdown amid unprecedented anxiety and uncertainty, and the other on the night of a fraught and high-stakes election.
I was lucky enough to get the opportunity to dig a little deeper into this with Pappano, exploring his relationship with these works, and with those of Richard Strauss which he also recorded recently for Warner. Hot on the heels of these two releases, he was also recently announced as the next conductor of the LSO – so I couldn't resist asking him about his plans for the future, with the spectre of COVID-19 inevitably a factor to be reckoned with in musical and administrative decisionmaking for some time yet.
You mention in the sleeve-notes that you've wanted to conduct Vaughan Williams's uncharacteristically harsh Fourth Symphony for a long time – what prevented you from doing so sooner?
There was an element of fear, certainly personally, about wanting to have a crack at the Fourth. But when I was asked to do a programme of English music at the LSO (of which I've done several over the past few seasons) I wanted to jump in at the deep end and I felt that I could really trust the players. I think you need the kind of orchestra that has the mobility to move at a very high volume – not only is the Vaughan Williams loud, but a lot of it is fast. Take the Scherzo of the Sixth: it's an incredible run of notes at very high volume and it needs big bones, so it's like a heavyweight runner, powerful and nimble at the same time.
When you hear Vaughan Williams's own recording, and also the one I heard when I was younger by Mitropoulos, the force of them – particularly the former – is incredible. First of all it's very quick – as Elgar was with his own music. The opening of the first movement is quicker than anybody else, by far. When you bring the downbeat down, it doesn't matter how you prepare it: the orchestra will play in a tempo that's proportional to the amount of weight in the sound, and you have to really work on it to get them to move faster in those opening bars. I'm not saying it's wrong, but it's certainly not what the composer had in mind, at least from the evidence of his recording. And the sense of slashing at one another is more apparent at a quicker tempo – but it's difficult to move the orchestra in that way. It's a fascinating technical challenge.
For a long time I've programmed a lot of war pieces – Britten's War Requiem, Dallapiccola's Il Prigioniero, Honegger's Symphonie liturgique and wartime Shostakovich pieces – and I'm fascinated by that reaction to war. Even though Vaughan Williams famously said "can't a person just write a piece of music" there's no question that he was living in a turbulent time, particularly when he wrote the Sixth. I think that disturbing turbulence is undeniably in the music – it's a fantastic picture of a time that people like you and me are lucky enough not to have lived through, the current Covid-19 experience notwithstanding.
In the UK Vaughan Williams has been consistently popular – what's his reputation like elsewhere? Do you perform his works with the Orchestra dell'Accademia Nazionale di Santa Cecilia as well, or is there not so much interest in him among Italian audiences?
Not really. There's an interesting little tale to illustrate this, though it's about Elgar not Vaughan Williams. I conducted his First Symphony in Rome a few years ago – the first movement of which was actually written there, incidentally – and I discovered that the piece was conducted there by Barbirolli in 1912 and had never been performed since until I did it ninety years later! And Vaughan Williams suffers to an even greater degree. That's partially my fault, of course – I haven't forced it down their throats!
Even to say that Vaughan Williams is popular in England, though, is only partly true - some Vaughan Williams certainly is, like the Lark Ascending and the Tallis Fantasia and perhaps the Fifth Symphony and the Pastoral Symphony – but I don't think the Fourth and the Sixth are necessary popular per se. What's been very good is that people have been recording them for quite a while – Haitink, Previn, Andrew Manze, Andrew Davis, Colin Davis – but I'm not sure the complete picture of Vaughan Williams is really known even in England. And he changed so much from symphony to symphony.
Some of the composer's comments about the Fourth ("I don't know if I like it, but it's what I meant") seem to imply a man deliberately trying something as different as possible. While it's clearly very much more than a sketch or a trial-run, do you get any sense of this symphony being experimental or exploratory?
To answer a question like this you have to look at what the word "dissonance" means. In a lot of music written at this time, and certainly in much of today's contemporary music, dissonance is so much the norm that its power is lost. The reason I say that is because composers like Vaughan Williams, and Shostakovich to great degree, treat dissonance as something very potent. (In these two symphonies they have a lot in common…It would be incredible for me to find out that Shostakovich knew Vaughan Williams's symphonies!). This minor ninth interval that starts the Fourth Symphony, for instance – it's like a knife dragging across and it really cuts. This ability to dose out the power and the disturbing quality of dissonance is absolutely one of the reasons why the piece speaks in such a compelling manner.
Is it experimental? I don't know. The Scherzo of the Sixth, I think, does sound experimental – it's like a conversation of constantly running notes. Even in the piano score that's in the Royal College, it's just this amazing stream of unending creativity, as if he were testing himself to see how long he could go on developing and pushing this idea. When he's moving between a more provocative style, then less so, and then back to being provocative again, maybe you could say there are experiments, but he sees them through. Which is where that "it's what I meant" comment comes from.
The final movement of the Sixth is also incredibly challenging for the orchestra and for the listener because it won't and can't rise above pianissimo, so trying to create tension within that is difficult. People have talked about it being a post-apocalyptic scene – there's something numb about the music, and if it's an experiment it's certainly very disturbing. It's not something that you want to live with every day, that's for sure.
Many performances have gone down in history for reasons that go beyond the music itself – one thinks of Rostropovich at the Proms in 1968, or Bernstein in West Berlin in 1989. The recording of the Sixth on this album was the day before the UK's national lockdown – was there a similar sense of history, or at least of atmosphere, in the air that night?
Yes, there was no question that something cataclysmic was about to happen. Everybody felt it, and the response from the orchestra was one of absolute resolve, a shaking of fists at Covid-19, if you like: it was a kind of "---- you!" moment. The audience were amazingly courageous to come out to hear this concert (the rest of the programme was the Britten Violin Concerto and the Vaughan Williams Tallis Fantasia), and I think that whether it was historic or not, you felt the human spirit coming together and that we were trying to make some kind of a statement together, a statement of intent and defiance. The piece in itself is that – both pieces, indeed, there's no question that they share that.
After the concert when we were packing away there were a lot of musicians in my dressing-room who felt this moment, but there was also such fear and trepidation about what was going to happen. And look at us now – back then we were expecting things to be better in April or May, and here we are a whole year later and things aren't yet back to normal in any sense. In England we're getting there because of the amazing vaccine rollout, but I can tell you that in the rest of Europe it's pretty tough. We're living this kind of war against a silent enemy that's done all this damage to society and to the economy; businesses are going to fold and have already done so, people don't know where their next meal is coming from, a lot of freelance musicians haven't worked in over a year and are starting to change profession. Is it World War Two? No, it's not, and we're not going into bomb shelters, but there is isolation and mental anguish, all of which I think is mirrored in these amazing pieces.
As well as this Vaughan Williams double-bill, you've got an album of Strauss out next month, combining Ein Heldenleben with the Burleske. How much similarity do you find between his orchestral works and the operas?
His tone-poems are mostly autobiographical, and therefore are operas of a kind in themselves. In Ein Heldenleben he even quotes himself – copiously, indeed – looking back over his life, though he wasn't that old at this point. He's reflecting not just on his successes to date but also his failures – Guntram and other pieces that hadn't done very well, and he quotes them almost lovingly. But there's also a huge section on his marriage, his domestic life and tribulations. His wife was obviously a real character – capricious and certainly manipulative and difficult to handle, but he loved her, and all that's there. So they are mini-operas but they're only about himself: a life lived, fighting critics and obstacles on the way to the eventual conquest and reaching the top of the hill.
I also want to pay particular tribute to the wonderful pianist Bertrand Chamayou who performed the Burleske with us: the Heldenleben was recorded live but the Burleske was in the studio, using a distanced orchestra. It's a very tricky piece at the best of times! But it was amazing to meet him and to work with someone who's not only fleet of finger but just a wonderful musician. And discovering the piece was fascinating – it's a very unusual work.
The name Burleske conjures up so many images, but there's something demonic about it that is at the same time playful. You can't quite put your finger on the style. It's got something of Liszt's Totentanz or the second movement of Mahler 4 about it – there's something macabre and yet also something gorgeous about it in places. It's interesting that Strauss would often if not always programme it in his concerts in his later years. There's an autobiographical element there too, though it's a little bit more elusive to pin down what the piece is actually saying compared with Ein Heldenleben.
In the light of your recently being named as the incoming conductor of the LSO, can you tell us anything about your plans with the orchestra?
The plans aren't top-secret – it's more that I'm still in the process of formulating them! Because of Covid-19 we're having to think about how to work with the chorus, what repertoire will be right, and so on. I want to continue down the route of English music, which I love and which has been spurred on by the orchestra themselves; I've done the Elgar symphonies and Walton with them in the past, and we've made a start with Vaughan Williams. But I also want to do more non-operatic Italian music and French repertoire. It's very much the case that the orchestra has input into what we play, particularly when it comes to commissions and new works, and without that give-and-take I can't decide on programmes – it's invaluable.
I think the next couple of seasons will form some kind of recovery period, taking into consideration what we've learned throughout all of this. I think the idea of the musicians being more spaced apart is not actually a bad idea for certain music; the sound has room to go in between the musicians, it's richer, and the bowing can be freer. So the thing is to decide what music benefits from spread-out strings, for instance. This period has certainly enhanced the listening capacity of the musicians, because when you're not sitting right next to someone your radar has to be really honed, and that's been good.
Programming things with smaller groups of musicians (as some orchestras have been doing during periods of restrictions) is something that we'd already do to provide contrast, so I might start with something smaller or use two separate groups. At the moment it's been a matter of necessity, but it's also given people ideas about how to programme – save the big thing as a surprise, perhaps.
I believe with my heart and soul that audiences are going to come back with a vengeance when they're able to. There's going to be an explosion of desire for congregating and sharing things – music in particular, but also theatre, ballet, opera and so on. This period has been so punishing for a lot of people, and it's taught us how much we need that sense of communion with others and that sharing of live experiences. It's enriching, and I hope the politicians have realised how important it is for our mental health, for education, for our general wellbeing. There might be some reticence at the beginning, but I don't think that will last very long.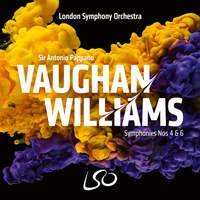 London Symphony Orchestra, Antonio Pappano
Available Formats: SACD, MP3, FLAC, Hi-Res FLAC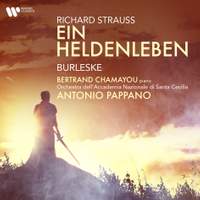 Bertrand Chamayou (piano), Orchestra dell'Accademia Nazionale di Santa Cecilia, Antonio Pappano
Available Formats: CD, MP3, FLAC, Hi-Res FLAC