27th August 2020
 Interview

,

  Nicholas Collon on Music of the Spheres
Themed around Pythagoras's theory of the 'Music of the Spheres' and featuring Mozart's Jupiter Symphony (played from memory) alongside works by Max Richter, Thomas Adès and John Dowland via Nico Muhly, Aurora Orchestra's debut recording on Deutsche Grammophon is released on CD tomorrow, and has already featured in my Editor's Choices following an early digital release back in June.
Earlier this summer I spoke to Aurora's Principal Conductor Nicholas Collon about the impact of rehearsing and performing from memory, how the programme came together and played out in live performances, and how the orchestra's rather unusual way of working has equipped them for the challenges of resuming concerts with social distancing…
Is there any precedent for orchestral music being performed from memory in the Baroque or Classical periods?
If you look back to the time of Mozart or Beethoven, very little music would have been memorised: in fact Beethoven thought it was quite arrogant to play from memory! And from a practical point of view, having orchestras perform off-copy would have been impossible, because all of these symphonies were premiered with very little rehearsal – we're talking one or two days for most of Mozart's symphonies - so it was very much a case of just reading what was in front of you rather than having any opportunity to internalise the music. I guess it was really the solo instrumentalists of the late nineteenth and early twentieth centuries who first embraced the idea of playing recitals and concertos from memory, and for a long time it's remained the province of individual performers rather than ensembles. With orchestral music it's also about sheer breadth and turnover of repertoire: for most instrumental ensembles, particularly contract orchestras, to entertain the idea of playing from memory would be really impossible because of time-constraints.
Song repertoire is slightly different, because it has a stronger history of oral transmission: so much music is passed on through folk traditions and singing at home, without a script in front of you. People have always picked up songs in that manner, but you generally don't pick up instrumental music without looking at a score first.
Was performing off-copy always part of Aurora's ethos?
No, it's actually a relatively recent development: we gave our first concerts in 2005, and the first one we did from memory wasn't until 2014. We like to remind people that it's one aspect of what we do, but it's certainly not the ne plus ultra - in a normal year, only about a third of our performances involve memorisation. It's a vehicle, a means to an end, and it allows us to do rather interesting things, but it's only part of how we try to achieve that end.
Were any of the works on the album recorded without music?
Just the Mozart: I think it's probably the first time that a big-scale piece like the Jupiter has been recorded like this, because on the face of it it seems like quite an obtuse thing to do! We did it not so much because we wanted to make a statement, but just because we'd been playing it like that anyway in concerts, and it would have seemed like a step backwards to go and pick up the music – none of the players wanted to do that, so we kept it as it was! For the Richter we used the music: we'd actually performed it from memory only the week before, but it would have been a nightmare to record like that because it's very hard to stop and start in that piece. And I certainly wouldn't like to do the Adès off-copy!
What struck me about your recording of the Jupiter was how clearly a lot of the detail in the inner parts comes across: do you find that different elements of a score perhaps come to the fore when you're rehearsing a piece off-copy?
It's always difficult to say what is down to what, but I think working from memory does allow us to explore elements of the music in greater depth than we would be able to do with the notes in front of us. Perhaps that's partly just because the sheer amount of time we spend on a piece when we work like this means that we hear and feel things we might otherwise miss, but it's also because there's a certain freedom for the players that comes from performing from memory. Dispensing with the music certainly isn't a prerequisite for finding interesting things in a Mozart symphony - it's important to point out that some of the best orchestras in the world, and the best recordings, achieve all of this with the copies in front of them! - but I think that we all feel that it gives us a sense of cohesion and improvisatory freedom that we wouldn't otherwise have.
You've done a few concept albums with Aurora, including Road Trip back in 2015: how did you hit on the idea of the 'Music of the Spheres'?
That came from our Creative Director, my wife Jane Mitchell, who's also a flautist. We did the Jupiter at the Proms with Aurora in 2016 and wanted to revisit the piece because it's just great fun to play, so we used that as a tangential jumping-off point for doing something around the idea of the heavens and the Music of the Spheres; the Adès, which is another piece that we've long wanted to play and record, seemed to fit quite naturally into that, so it all came together quite organically. I love Tom's music, and I first conducted Concentric Paths with Pekka [Kuusisto] and the Philharmonia around eight years ago, but it was in my consciousness already - Jane had played it with the Chamber Orchestra of Europe and I remembered her practising the piccolo parts endlessly because they're extremely difficult! It's a great work-out for all the musicians, actually, because it's very challenging: it's a wonderful, virtuosic, expressive piece.
The Richter is a new commission for this project: what was the collaborative process like for this?
We spoke to Max about the concept of the album, and also suggested that he might try and write a piece that we could manage to play in the dark, which he really liked! So he went away and came up with this idea of the Pulsar CP1919, which was discovered in the 1960s and sends a signal back to earth every 1.3373 seconds. He decided to use that as a base-point from which different parts of the string section would play various extended rhythmic values, all cleverly knitted together with ascending scales – the sonority and texture are amazing. That started the concerts from total darkness, with the space imagery coming up on the screen behind and the lights on the floor flickering one beam at a time; it was really very beautiful.
I'd gathered from photos of the live performances that you did some interesting things with lighting and spacing...
We performed it in Singapore, the Queen Elizabeth Hall and a few regional venues in the UK including Birmingham Town Hall, and it took quite a long time to set everything up! We created a bespoke lighting installation on the floor which looks like an old map of the spheres, from back in the day when people believed the earth was the centre of everything and all of the other planets radiated outwards. Jane had been studying one of these old maps and noticed the similarity with many modern concert-hall stages: if you look down on a venue like the Kölner Philharmonie or the Berliner Philharmonie from above, you see that they're also built around concentric circles which the orchestra falls into almost exactly, so it's quite a nice image.
In the concerts we had a birds-eye video-camera which was able to project what it all looked like from above onto the wall behind us, and we fitted the orchestra within the illuminated lines of the Music of the Spheres map. The idea was that where I stood represented the earth, with all the planets/players spiralling outwards, which also ties into Adès's idea of 'Concentric Paths' very neatly! In between the pieces we talked a little about the Pythagorean concept of the Spheres, exploring the relationship between music and maths and astronomy: for example, we took the four-note fugue in the last movement of the Mozart and demonstrated how it works mathematically, which was a nice way of drawing the whole concept together.
How have you connected with your audiences during lockdown?
We've launched a big online initiative called Aurora Play – we're very fortunate in that we've got a huge archive of digital content, including a lot of BBC Proms which were broadcast on TV, and we were able to secure the rights to stream them. (I think that's a first from the BBC, and they've been very good about it!). So rather than streaming (which is still quite difficult to do on this scale), we've focused a lot of our energy on bringing this high-quality archive material to people's attention, and also packaging it up differently by doing things like dancing and drawing videos around it to draw in younger audiences. It's proved really popular, and from the organisation's point of view it's been a great way to expand the profile of what we've done so far.
It occurred to me that Aurora's history of playing with space and distance in your concerts will put you in quite a strong position when it comes to resuming live performances – is it still too early to discuss possibilities on that front?
Yes, we probably are fairly used to it, because when we play from memory we do quite a lot in unusual formations, and we're very happy to be distanced: in our concerts we usually do an encore where we go and stand among the audience - very far apart! – so they can feel what it's like to be inside the orchestra. I'm not saying that would be possible now, but it does show what you can do with pretty complex music spread around a large concert-hall. So I'm not particularly concerned about playing in a socially-distanced way: the real issue is the restrictions on numbers of players. At the moment [this interview took place in July] Public Health England is saying that we can only have eight wind and brass-players, and that's not enough for a Beethoven symphony…They plucked that figure absolutely out of the air, and all the orchestras are completely hamstrung by it.
---
Postscript: Earlier this week it was announced that Aurora will give their first public performance (and one of the UK's first orchestral concerts) since lockdown on 7th September: Beethoven's Seventh Symphony, performed from memory, under the West Handyside Canopy in King's Cross in partnership with Kings Place. They will perform the same work, alongside a new commission from Richard Ayres exploring Beethoven's journey into deafness, at the BBC Proms on 10th September; the concert will be broadcast live on BBC Radio 3, BBC TV and BBC iPlayer.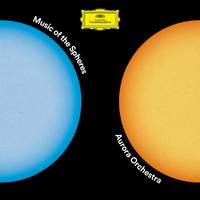 Iestyn Davies (countertenor), Pekka Kuusisto (violin), Sam Swallow (vocalist)
Aurora Orchestra, Nicholas Collon
Available Formats: CD, MP3, FLAC, Hi-Res FLAC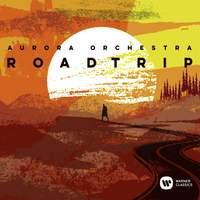 Aurora Orchestra, Nicholas Collon
Available Formats: MP3, FLAC