7th May 2020
 Interview

,

  David Hill on Howells
After many years of neglect, Herbert Howells's large-scale symphonic Mass setting recently received a much-needed new recording from David Hill, drawing on the editorial work of Paul Spicer to produce a new performing edition.
The scope and ambition of the work are unlike much of Howells's other compositions, with correspondingly greater demands on the performers - though it is by no means a complete outlier, as the autobiographical streak running through it ties it in some ways to his Requiem and English Mass.
I spoke to David about the process of putting this recording together, and about the work itself.
While not quite a world premiere, this recording nevertheless represents quite a step 'off the beaten track'. Where did the idea to record the Missa Sabrinensis first come from?
When we embarked on recording Hymnus alongside the then-unheard Sir Patrick Spens, I felt more and more that his major choral/orchestral works needed far more exposure. In that thought, I was hugely encouraged by Andrew Millinger and the Howells Society as well as gaining the support of the Howells Trust which I helped to set up whilst at St John's College, Cambridge. Once we had recorded Stabat Mater, I knew we had to plan the completion of the trilogy with the Missa Sabrinensis.
However, I hesitated on a personal note as I found it very difficult to come to terms with the vastness of its structure given the lack of a printed score. With the help of Paul Spicer and Novellos, I set about reconstructing a new performing version of the score - chiefly, attending to the dynamic markings in order to allow the huge amount of inner detail to be heard. When it came to rehearsing the orchestra, choir and soloists, it was (thankfully) immediately clearer than it would otherwise have been.
This Mass's title, referring to the River Severn, links together three locations that were of formative importance to Howells. Do you think it's thus more of an autobiographical statement than merely a musical celebration of the region (as might be the case for Holst's Cotswold Symphony or Finzi's Severn Rhapsody)?
The Missa Sabrinensis is the summation of his life's work. There can be no doubt that his connection, physically and geographically with Worcestershire and Gloucestershire, (through which the River Severn flows), remained a constant source of inspiration for his entire life. Though not a believer in God, one senses Howells's close connection and sensitivity to the words, their power, their meaning - and the River Severn itself, its depth, danger, attraction, beauty, tranquillity, yet uncertainty - all becoming a metaphor for this unique work.
There are unmistakeable echoes of Vaughan Williams's Mass in G minor in the outer movements of the Missa Sabrinensis - is this an intentional homage, or does it just indicate how profound Vaughan Williams's influence on Howells was?
I think any of us would have wanted to have been present in Gloucester Cathedral in 1910 for the premiere of Vaughan Williams's Fantasia on a theme of Thomas Tallis. It was a seminal moment which made a huge impression on Howells who was there. Vaughan Williams, along with Finzi and Sumsion (organist of Gloucester) were close friends, and Vaughan Williams was always very encouraging to Howells. I think the references to RVW are of total respect for the man, his music and influence.
Although a fundamental 'Howells-ness' is discernible, this is a radically different compositional voice from the well-known canticle settings, anthems and organ works. Do you think this is simply a response to the far larger palette of the orchestra, or is there a whole different side to Howells that is only revealed in a few works?
I think the work could be described as his 'Choral Symphony', and he intended it to be on a scale he had not previously attempted. Additionally, the harmonic movement is much more rapid than in the other works, with the exception of Sir Patrick Spens which is incredibly dramatic. Some critics of Howells refer to 'too many long pedal notes' and 'slow harmonic movement'. The Missa Sabrinensis can refute those arguments in its complexity and equality of material for every singer and instrumentalist. They are all equals and Howells constantly demands a dialogue between all three.
Like the similarly large-scale English Mass, this work has hardly ever been recorded or even performed – given Howells's generally high standing in the eyes of choral musicians, why do you think these larger 'concert masses' aren't done more often?
I think the state of the material, previously, was enough to put off even The Three Choirs Festival, but hopefully that will change. However, its technical demands on all performers means it really requires more rehearsal that most might be able to afford in terms of both time and money. My hope would be that at least this recording will open the eyes and ears for some to consider planning it, and Festivals are the obvious places where it will work best: Edinburgh, The Proms, Three Choirs? Let's hope.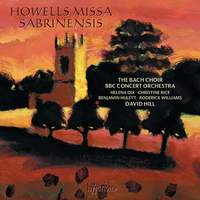 Helena Dix (soprano), Christine Rice (mezzo-soprano), Benjamin Hulett (tenor), Roderick Williams (baritone), BBC Concert Orchestra, Bach Choir, David Hill
Available Formats: CD, MP3, FLAC, Hi-Res FLAC