29th August 2019
Interview

,

Anne-Sophie Mutter on John Williams
© Prashant Gupta/Deutsche Grammophon
Celebrated German violinist Anne-Sophie Mutter has long been both a dedicated commissioner of new works for the violin as well as an ardent fan of the music of composer John Williams; her new album combines these two facets by presenting a selection of Williams's movie themes from across the decades, specially reworked for violin and orchestra, and conducted by the composer himself.
Alongside well-loved melodies from films such as Star Wars, Harry Potter, Memoirs of a Geisha, and Schindler's List, the album presents a selection of music from rarer gems such as Dracula, Sabrina, Cinderella Liberty, and Far and Away. I spoke to Anne-Sophie recently to find out how she chose which films to include, as well as how she first encountered the music of John Williams.
It's clear from listening to the album how passionate an advocate you are of the music of John Williams, with your enthusiasm coming across so clearly in every piece: can you tell us how you first came across his music, and what made you fall in love with it?
I fell in love with his music in 1978; I grew up in the Black Forest where Germany, France, and Switzerland meet and there was not much to do other than playing soccer and being in the woods and enjoying my violin lessons. We had a cinema, so at least that was something exciting! Then in 1978, shortly after I had made my debut with Herbert von Karajan, Star Wars arrived in the cinema, and I was totally blown away by the music. Although it was visually also sensational, what really stuck with me was the leitmotifs, the strong characters which he was able to depict in music. I was very struck by that because I grew up with the great music of people like Bernard Herrmann and Korngold, whose Violin Concerto and score for The Sea Hawk are obviously special. After that I used to go to movies when I knew that John would have written the score: sometimes I wasn't terribly interested in the subject, but I knew I could always close my eyes and know what was going on by just listening to this very rich-textured and stylistically diverse music.
I'm so envious of brass players; clearly John has a very soft spot for them, which made selection of the themes for my album and for the open-air concert quite demanding: Princess Leia, for example, wasn't originally intended for the violin, but as John himself says it becomes a totally different emotional experience.
Of course you have a direct connection to Hollywood royalty through André Previn: I understand he used to tease Williams that he should stop wasting his time with all this film music and focus his efforts on so-called "serious" compositions instead! Do you think there is still a certain resistance to film music in the concert hall, and what do you think it is about Williams's music that has enabled it to make that transition more successfully than others?
I think André probably would not have used the words 'film music instead of serious music', because he himself lived in all these musical worlds which seem very different to most people: unlike many of us who are less gifted than he was, he lived in the world of music completely, so he could easily switch from jazz and film music to playing a Mozart piano concerto or conducting Richard Strauss. But I think the point André wanted to make is that John seems to be so totally busy with that part of the repertoire that his symphonic writing hasn't been given the space it deserves - though in fact he's composed about forty or fifty 'classical' works, including two violin concertos and a cello concerto, and he's just written a piece for Yo-Yo [Ma], which premiered last summer in Tanglewood.
I think in English-speaking countries people are much more open-minded. Just over the weekend I was in London looking at the Casino Royale interactive screening, and it struck me how incredibly diverse the cultural scene in London is; my daughter has lived there for quite a while, and that kind of diversity and also appreciation for the theatre and musicals and opera seems to me to be very Anglo-Saxon. In Germany the division between the 'serious' and the 'unserious' is much more pronounced. So the reason I chose to do the first real open-air concert of John's music in Germany is not only because Germany is my home country: it also has to do with the reluctance that I think a big part of the audience has to accept that both worlds can have high craftsmanship. That is true for classical music as well as for film music, and there are fabulous new scores by John Williams as well as people like Jörg Widmann, so it is possible.
I'm always interested in enlarging my repertoire, and I have worked with so many living composers that when I came across John Williams in person I immediately thought 'Wow, a violin concerto would be such a gift for the repertoire and for the next generation'. Hopefully the moment will come when he has the time to address that issue, but for the time being I'm very happy with Markings [written for Anne-Sophie Mutter in 2017], which is also being recorded; it's not included on the CD, but will be released later on a special edition on LP [and also on the deluxe CD/DVD edition]. I cannot tell you how excited and honoured I am to be part of this project. It absolutely needs to be there because it's a fabulous piece; he takes it as seriously as everything else, and we wanted to take a broader look at how he treats the violin and its many different stylistic clothes.
Alongside excerpts from Star Wars and Harry Potter it's great to see some less familiar works included on the album, particularly Cinderella Liberty, Dracula, and one of my favourite John Williams themes, Sabrina.
Oh yes, Sabrina has a purity and it ennobles the film. One of my all-time favourites now is actually Cinderella Liberty; I just find Nice To Be Around [the love theme from the film] so immensely inspired, and the jazzy atmosphere is something which really taps into my passion for jazz. Sadly I've no talent for improvisation, but I've always thought that it is the most intelligent style of music-making - composing in the instant and being so responsive and so close to your musical partners and their musical ideas. One of André's gifts to me last Christmas was a special arrangement of Duke Ellington's Sophisticated Lady, and it was he who also suggested that we include Cinderella Liberty (which was a great surprise to me) and Dracula, which he remembered from decades ago and particularly admired.
Several of the pieces have been fairly substantially reworked not just in terms of orchestration but also in form and structure. Did you have any involvement in the reshaping of these pieces, or any input into the solo part, perhaps for example, the cadenzas in Hedwig's Theme and Tintin?
No, none whatsoever: John is such a perfectionist, and his knowledge of the violin is quite astounding, so there was simply no need. My only suggestion concerned Princess Leia's Theme, which was originally for French horn: I felt that the key didn't really exploit the brilliance and soaring quality of the violin, so I asked for it to be transposed upwards, so it could shine even more. I'm not 20 anymore, so I have worked with a lot of fabulous musicians and great composers, but still his understanding and knowledge and quest to be ever better is amazing. Sometimes I would complain slightly about passages which were uncomfortable or difficult…but I complained only to myself because Beethoven is uncomfortable and difficult too, and that's just part of being a musician; it's not supposed to be easy!
Can you give us some insights as to what it's like to be part of a John Williams recording session, what his working methods are in the studio, and what qualities he brings as a conductor to his own music?
First of all he trusts all of us, which is a great quality: not all conductors and composers do that when it comes to recording sessions. Many musicians these days, particularly the very young conductors, are too overly active, they don't trust you to play a phrase in the way it should unfold. John also rewrites constantly: even after our open-air concert in Tanglewood in July, he still rewrote a few sections, changing a few bars in the violin part of Dracula and a great deal of A Prayer for Peace [from Munich]. This project has been a long time in the making, because we started discussing it over two years ago, and he started to write just over a year ago; we rehearsed in March, we recorded in April, we performed in July, and he is still not finished with it! I am very intrigued by that and very in awe of the fact that although I find what he writes is perfect, he is going to go back and reset, re-orchestrate and rewrite. That's the sign of a real genius, and also obviously of a very humble person.
Finally, with so many memorable themes that he has written across the decades, were there any particular favourites that you weren't able to fit on this album, and is there perhaps scope for a Volume Two? I would love to hear you play, for example, the Devil's Dance from The Witches of Eastwick!
That's a very good question! I did play Devil's Dance in Tanglewood, and he's rewritten it to the extent that it's almost like a new piece. I'm going to perform it here in Munich soon, but he was in the process of rewriting it for me when we were recording in April, and I have to confess I was so overwhelmed by the 16 or 18 other pieces that I just wasn't able to get it ready - but Volume Two, who knows!
There are so many more themes I would have loved to play: some of them might never work out, like Catch Me if You Can, which I think is one of the best scores ever written. War Horse is so beautiful, and I would just love to play the main themes of Superman and Jurassic Park! I'm contemplating a world tour with John's music in 2022, when I've done more of these pieces, and I'm thinking I might just join the orchestra. There's such incredible intensity and depth and emotion that I don't want to only act as a soloist, I want to be part of the entire picture!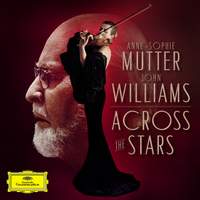 Anne-Sophie Mutter (violin), The Recording Arts Orchestra of Los Angeles, John Williams
Available Formats: CD, MP3, FLAC, Hi-Res FLAC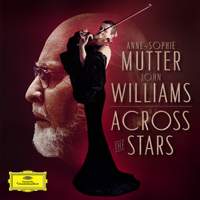 Vinyl Edition (released 27th September)
Anne-Sophie Mutter (violin), The Recording Arts Orchestra of Los Angeles, John Williams
Available Format: 2 Vinyl Records