15th August 2011
 Recording of the Week

,

  Gustavo Dudamel
I've enjoyed reading the heated arguments in the press and online over the past week about whether or not Gustavo Dudamel's recent Proms performance of Mahler's Second Symphony with the Simón Bolívar Symphony Orchestra was incredibly brilliant or astonishingly bad. Opinions seem almost diametrically opposed with very little room for anything in the middle.
Dudamel is of course a phenomenon. He signed a recording contract with Deutsche Grammophon in 2005 aged just twenty-four, became Principal Conductor of the Gothenburg Symphony in 2007 and Music Director of the Los Angeles Philharmonic in 2009. While DG have released a number of recordings from Los Angeles (as downloads only unfortunately), next week sees the first opportunity to hear some of the results of his work in Gothenburg with the release of an attractively priced three disc set of Bruckner, Sibelius & Nielsen. I've been listening to it this week and I wouldn't be surprised if like the Proms performance it divides the critics somewhat into two camps.
Gustavo Dudamel
Taken from live recordings during his first three seasons in Gothenburg, the combination of Bruckner's last and unfinished Ninth Symphony with three Scandinavian masterpieces (Sibelius's Second Symphony and Nielsen's Fourth and Fifth Symphonies) may seem an odd coupling, but they were in fact all written within a thirty year span and as the booklet points out all "explore, in different ways, the seemingly endless timbral possibilities of the 19th-century symphony orchestra".
One of the most contentious elements of Dudamel's Proms Mahler 2 was his choice of tempos, and specifically the slowness of some of them. I imagine there will be similar complaints here in the Bruckner and particularly the first movement of the Sibelius. It is interesting as I often feel that conductors generally get slower as they get older. In Dudamel's case I suspect he may well speed up.
He is very open with his approach to music, and while he says that tempo relationships within and between movements will sometimes be a factor, I get the impression that he is striving for intensity and gradual building of tension when he takes movements (and particularly openings of movements) slower than you generally hear.
He also has a tendency to allow more space as music gets quieter and gradually speed up as it gets louder. That is evident here in all these symphonies, but whilst I occasionally found it slightly over-indulgent, most of the time I think it sounds entirely natural, in a similar way to how a narrator would alter the speed and volume of their voice when telling a story.
Dudamel is undoubtedly a great musician with sound musical instincts. He is also an inspirational one and with his infectious enthusiasm, orchestral musicians seem to really enjoy playing for him. He is still very young and, while full of ideas, has much to learn, but what better place to be playing Sibelius and Nielsen than with the Gothenburg Symphony – an orchestra that knows that music so well. He clearly has a great respect for the orchestra and is intent on keeping what he describes as their 'noble' sound with in particular a rounded rather than forceful brass tone.
There is much to enjoy here. In particular I thought the Bruckner was beautifully played and both Nielsen symphonies very exciting. You'll find the usual sound samples below.
---
A couple of other things to mention this week: Firstly we've managed to secure a small quantity of selected discs at spectacular discounts of up to 75%! You'll find our Clearance Sale here but be quick as we can't order any more so things will disappear quite quickly as stock runs out. Some of them (like the Andrew Manze box set) are astonishingly cheap!
Secondly, the 2011 Gramophone Awards shortlist is announced today. You can view all the chosen discs here. The winners will be announced in October and I'll give you a more detailed evaluation then.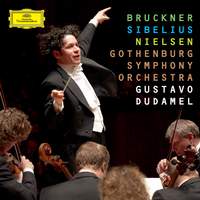 Gothenburg Symphony Orchestra, Gustavo Dudamel
Available Formats: MP3, FLAC