9th April 2018
 Interview

,

  Introducing Thomas Ebenstein
Launched in 2015, Capriccio's Première Portraits series focuses on young and emerging artists making their debut recording; their most recent release introduces the Austrian tenor Thomas Ebenstein (currently a member of the ensemble at the Wiener Staatsoper, where notable roles have included Froh in Das Rheingold, Alfred in Die Fledermaus, Dr Cajus in Falstaff and Caliban in Thomas Adès's The Tempest) in a programme of early twentieth-century song-cycles including Schoenberg's Brettl-Lieder and Strauss's infrequently-recorded satire on the music-publishing industry Der Krämerspiegel. I caught up with Thomas a few weeks ago as he was preparing to sing in Gottfried von Einem's Dantons Tod in Vienna to find out more about his career to date and plans for the future…
How did the programme for this recording come together?
I sang a lot of this kind of repertoire whilst I was still a student at the University of Music and Performing Arts Vienna. I'm very fond of the music of the early twentieth century, in particular Strauss, Mahler, Korngold and early Schoenberg; one of my favourite pieces is Verklärte Nacht, which I feel is stylistically very close to the Brettl-Lieder.
I came to the Krämerspiegel through the recommendation of a famous colleague of mine, the tenor Heinz Zednik, who sang a lot at Vienna, Salzburg and Bayreuth in the 1970s and 1980s – I loved these songs from the very first time I opened the score, partly because of their combination of Viennese style and very ironic texts.
Has Strauss has played a significant role in your operatic career to date?
Yes – we recently had a Strauss Festival in Vienna where I sang the Dancing-Master in Ariadne auf Naxos, Elemer in Arabella, and Valzacchi in Der Rosenkavalier (incidentally, 'Der Rosenkavalier' is also mentioned in the second song of Krämerspiegel).
Der Krämerspiegel is rarely recorded and rarely performed (at least in the UK) in comparison with other Strauss lieder: do you have any thoughts on why this might be?
Yes – I think it's at least partly because the cycle is so full of in-jokes about music-publishers! You really have to familiarise yourself with all of that beforehand, both as a singer and an audience-member, because if you don't know so much about them then it can all get a bit confusing! The piano-part is also incredibly demanding, as is the vocal line, which contains extremely high notes and very low notes – there is one jump of over two octaves!
It's comparatively uncommon to hear the Brettl-Lieder performed by a male singer…
I think they can be sung by either – the texts are written from a male point of view, but female voices can certainly bring in different colours. It can be very interesting if a woman sings them in the cabaret style of the 1920s: Schoenberg's music is so wonderful and so versatile that it can be sung from an operatic or chanson perspective.
You also sing them in a slightly different order to many other recordings – what was behind that decision?
I did some research on this after the event, because I'd really just followed the order of the score! When I made the recording I wasn't aware that there was another order – then I came across a note in the Schoenberg Institute here in Vienna saying that they can be sung in a different sequence.
What's next for you in terms of operatic engagements?
At the moment I'm an ensemble-member at the Vienna State Opera, but I also have the opportunity to guest a little bit: at the moment I spend roughly half the year in the ensemble and half freelancing elsewhere. At the moment I'm singing Dantons Tod by Gottfried von Einem in Vienna, and last week I sang the Dancing-Master in Ariadne auf Naxos at the Bavarian State Opera. In autumn I will be singing in the world premiere of Die Weiden [The Willows] by Johannes Maria Staud, based on the novel by Algernon Blackwood.
Also I've just been invited to make my Metropolitan Opera debut in the 2019/20 season. At the moment I think it's still a bit too early for Mime in The Ring Cycle, or Herodes in Salome, or the Captain in Wozzeck, but I hope that these roles will come in the near future!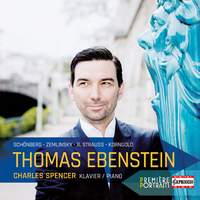 Thomas Ebenstein (tenor), Charles Spencer (piano)
Available Formats: CD, MP3, FLAC