18th January 2018
 Interview

,

  Clare Howick on British violin music
The violinist Clare Howick has been attracting considerable attention over the last few years for her championing of neglected British twentieth-century repertoire, both on the concert-platform and in the recording-studio: her discography includes the first ever recording of several works by Cyril Scott, a recital of music by British women composers including Ethel Smyth, Elizabeth Maconchy, and 'Poldowski' aka Régine Wieniawska (daughter of the Polish virtuoso Henryk Wieniawski), and an album of British miniatures for violin and piano, released last autumn on Naxos and praised by The Strad for Howick's 'tonal purity, exquisite use of vibrato and soaring cantabile'.
For her first concerto disc (out now on Naxos), she's coupled two previously unrecorded works by Kenneth Leighton and Gordon Jacob with a piece which was written for her: Paul Patterson's Second Concerto 'Serenade', which she premiered at St John's Smith Square in 2013. I spoke to Clare earlier this week about the connections and contrasts between the three works, where they sit in relation to some of the better-known concertos written around the same time, and her passion for twentieth-century British music.
You've made quite a speciality of twentieth-century British music – what first attracted you to this still under-represented area of repertoire, and how did your career evolve in this direction?
I had been given some old sheet music, and in this pile there were some pieces by Cyril Scott. On playing through them I was very drawn to his style of writing, and this led to me researching his music further. I soon realized that not only was he a fascinating man, but he had written many works which deserved to be heard. This is how my first CDs, for Dutton and Naxos, of his salon pieces and sonatas, came into being. I then came across the Ethel Smyth sonata, which is very Brahmsian, and started researching British female composers, which led to my next disc, British Women Composers. For my most recent concerto disc, British Violin Concertos, the seed was actually sown when I was a student at the Royal Academy of Music. I met Paul Patterson there and have played his works over the years. Also, the then Vice-Principal told me about the music of Kenneth Leighton, and I bought a copy of his concerto when I was at the RAM. We are well served with a vast number of recordings of standard repertoire and I feel it is enlightening to expand our appreciation of music in general and to enjoy the less familiar, but still brilliant music, that is available.
The works on the disc span 70-odd years: what connections do you see between them, or is it more illuminating to think about the differences?
Although the works span several decades, two of them were written shortly after the end of the Second World War and were premiered in the same year, 1953, by Frederick Grinke, the dedicatee of both the Jacob and the Leighton. They both reflect the harmonic development of that time, and naturally have a personal slant, but one can perhaps hear in the music, particularly in the slow movements, references to the anguish associated with the recent war. The Patterson is rather different - more joyous and with a humourous last movement.
Do you have any thoughts on how and why two works by relatively major twentieth-century English composers have languished unrecorded for so long?
It's difficult to know why, and I'm amazed they have not been recorded before as they are both brilliant works. I think a lot of works are premiered and then forgotten, even these days. One could ask why did the Britten concerto not get played much until recently, and that is a brilliant work! I think that it was probably a combination of things: mainly that more avant garde music was being promoted and so these concertos fell out of favour; also perhaps Leighton was more known for his many sacred and liturgical works, and Jacob more for his wind music, and popular works during the war years. Jacob was commissioned to write a work for the Festival of Britain in 1951 and, in 1953, wrote the violin concerto and also arranged the National Anthem for the Coronation of HM Queen Elizabeth II. Perhaps his music fell under the radar due to being more traditionalist. He said that "I write music first to please myself; if it also pleases others, then that is all to the good...the day that melody is discarded altogether, you may as well pack up music". Both these masters, along with others of that period, have been referred to as "the forgotten composers", but more recently there has been a justifiable resurgence of interest in their works.
Do you see any parallels between the works on this album and other, better-known twentieth-century concertos?
Playing the Epilogue of the Leighton I am reminded of the lament at the end of the Britten Concerto, (and also both the Leighton and the Britten are intense throughout), whilst the third movement has some affinity with Shostakovich and some of the orchestration is reminiscent of Bartok. The timpani are used to great effect in the Leighton, especially in the Epilogue, and of course they are used very effectively at the start of the Britten. The Jacob is in the neo-Classical style and is very rhythmic, like the Stravinsky Concerto. It is also wonderfully lyrical, especially in the slow movement, with some similarities with Vaughan Williams, which is not surprising as he was Jacob's teacher. At one moment in the slow movement, I am especially reminded of the Fantasia on a Theme by Thomas Tallis.
Paul Patterson's concerto was written for you: how did the commission come about, and how much input did you have during the compositional process?
I had been performing violin concertos, such as the Britten and Shostakovich 1, regularly over a long period with an amateur orchestra local to where I was living at the time. One of the violinists, Sylvia Green, left a legacy and the orchestra thought it would be fitting to commission a violin concerto in her memory. I was then asked who I would like to have compose the concerto and I immediately thought of Paul Patterson who I had known at the Royal Academy of Music, and whose works I had performed over the years. Once the concerto was ready Paul and I met up so we could then discuss the finer details.
The Patterson is the latest work on the album, though to my ears it sounds as if it could be roughly contemporaneous with the Leighton and Jacob: how far do you agree?!
Indeed this is why I chose the other works for this disc because they were compatible and complimented each other. I am not sure Paul would agree with you but I think there are some similarities. For example, I think the first movement of the Patterson has similarities to the Jacob, also both have very lyrical slow movements.
Your other recent album of British Music for Violin and Piano includes some beautiful, previously unrecorded salon-pieces by composers including Bridge, Delius and Ireland – how did you come across these, and do they perhaps offer a side to these composers which we don't normally see?
I was keen to record the Elgar sonata, which I have played many times in concert, and have often included some Bridge and Cyril Scott pieces as encores. I really enjoy playing these very appealing miniatures which perhaps have gone out of fashion a bit, but which are very listenable to and I knew that there were many more to perform and record. It was quite difficult to get the unpublished manuscript for a couple of the Bridge pieces, and in fact I didn't get the notes until a couple of weeks before we were due to record! I would say that these salon pieces by Bridge, Delius and Ireland offer a more popular and commercial side to these composers which we don't normally hear as they were probably written for the salon recitals of the time. Heifetz and Kreisler obviously saw the merit in these pieces as they included them in their recitals. I have never recorded any music that I did not love, and in my view, even the slightest of these miniatures is a musical gem that should be enjoyed by a wider audience.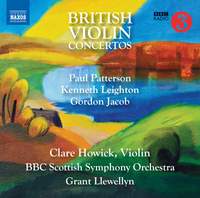 Clare Howick (violin), BBC Scottish Symphony Orchestra, Grant Llewellyn
Available Formats: CD, MP3, FLAC, Hi-Res FLAC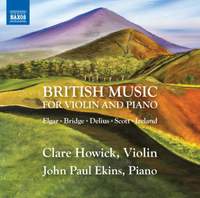 Clare Howick (violin), John Paul Ekins (piano)
Available Formats: CD, MP3, FLAC, Hi-Res FLAC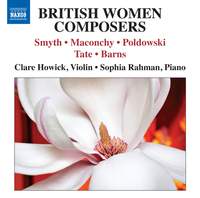 Clare Howick (violin) & Sophia Rahman (piano)
Available Formats: CD, MP3, FLAC