16th June 2016
 Interview

,

  Christoph von Dohnányi on Schubert 9
Now well into his ninth decade (and his seventh on the podium), the indomitable German conductor Christoph von Dohnányi is showing no signs of slowing down, with a busy international schedule that encompasses some of the most physically and mentally demanding works in the core repertoire as well as a significant amount of new music.
Tomorrow sees Signum's release of a live recording of Schubert Nine with the Philharmonia Orchestra, with whom he's enjoyed a close relationship for the past twenty years (he was appointed their Honorary Conductor for Life in 2008); reviewing the performance at the Festival Hall last June, The Guardian observed that '[Dohnányi's] ability to energise a score and keep it light on its feet remains entirely undiminished'. This vitality (not to mention a disarming modesty and dry wit!) was very much in evidence when I called him in Hamburg recently to explore the evolution of his thoughts on Schubert, his attitude towards historically-informed performance, and his plans for the future…
When did you first perform Schubert 9 and how much have your ideas about it changed since your Telarc recording with Cleveland in the mid-80s?
There are lots of things: I never do it the same way, hopefully! With these really great masterpieces, you can only talk about getting closer, never about having the solution.
When did you first conduct the piece in concert?
I started on this repertoire when I was very, very young, and I think that's good because they require a lot of time, a lot of repetition, a lot of thinking. But generally speaking I leave some distance between performances: for two or three years I'll do a piece, and then leave it for maybe ten years.
What have you found to be the particular challenges of the symphony?
A lot of it is about the orthography: for instance, if you go back to the manuscript, Schubert's accents are very sloppy –you don't know whether it's an accent, whether it's a diminuendo. Take the ending of the piece, for example – some people do a big diminuendo, Harnoncourt tried to do that, and I discussed it with him, and convinced him that the ending is actually only an accent and not a diminuendo. Nobody would write a diminuendo on that final C major chord!
Then of course for a long time (and this is something I discussed with some of my rather well-known colleagues) people used to do the beginning of the piece in a slow four, and then they had to do a huge accelerando going into the first allegro and actually that's also certainly not right, because if we go back and consult the autograph we discover an alla breve. So I do the opening alla breve, and then you have a very easy time finding the tempo for the first allegro, without this huge accelerando that's been done for hundreds of years.
So there are things which you discover one after the other. In 1825 Schubert wrote a letter to his editor at Breitkopf, where's he's very, very particular about having the difference between the dots and the wedges, and actually the editor replied saying 'Well, if you look at the autograph, you can't make out that difference!' But then there are dynamics – you have to decide whether you can crescendo even if the dynamics aren't written (and perhaps you do that more in Schubert than in someone like Beethoven, who was so famous for his subito effects)…Because the more you read, the more you perform, you realise that you don't know these pieces – nobody knows them! That's the beautiful and great thing about our profession: that you're always discovering something.
So while we're touching on historically-informed performance, did your research affect the decisions you made about repeats?
Well of course Schubert was of a different time, but certainly with Mozart, there was a period where I repeated everything as he wrote it, and there was a period I said 'No way!'. But then if you study the approach to art in the eighteenth century, you find out that quantity and mathematics were very important matters: during the Enlightenment, Moses Mendelssohn (who died about six years before Mozart) actually invented an equation for 'What is Art?'! At the time, sheer quantity of the music (and quantity of instruments as well, and fast tempos and so on) was rather important for entertaining people. So now some of the repeats I do for sure, but I'm not quite as stubborn about it as some other people: if I have the feeling that a repeat was done purely because of this emphasis on quantity in those days, then I don't do it, but if there's extensive development in a piece, then maybe I would be more inclined to observe the repeat. Take a piece like the Jupiter Symphony, where you have a very strong development; here I would do the repeat in the first part for sure, but actually I wouldn't then do the one in the development. I don't think I could ever make a statement saying 'I AM RIGHT!', but these are the things I try – to be a little bit more free from the musicologists [laughs wickedly]!
You're 86 now: may I ask if you've found that your age affects the way you pace yourself in rehearsal or performance?
Once I'm rehearsing, once I'm conducting – you know, I just don't think about how old I am!
What do you have coming up that you can share, other than your Beethoven 6 [that being recorded?]? Are there any major works/even composers that you want to explore?
I always do some first performances. Right now I think very highly of a very young, wonderfully gifted musician in Paris, Jean-Frédéric Neuburger: he's a tremendous pianist and also a very good composer, I think. I've performed his music in different venues recently, but I don't know whether there'll definitely be more this season. And part of the reason is that once you get to my age and you've done a lot of music in your life, people want you for the standard repertoire that's a big challenge for the young ones: for instance at La Scala I'm doing Mahler 9 and the Mozart Requiem, and a Brahms Requiem in New York – people ask you to do things like that at my age because as we all know it takes time to…I wouldn't say 'be in command', but at least I've had the time to try all sorts of different approaches over the years. And that's a huge challenge which takes time and is often very difficult for young people, so they ask us older ones! But that doesn't mean that I don't do contemporary music: in fact I wouldn't do a season without trying some new pieces!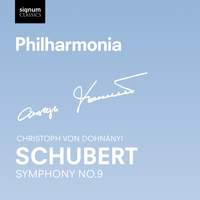 Christoph von Dohnányi's new recording of Schubert 9 is out on Signum on Friday.
Available Formats: CD, MP3, FLAC, Hi-Res FLAC