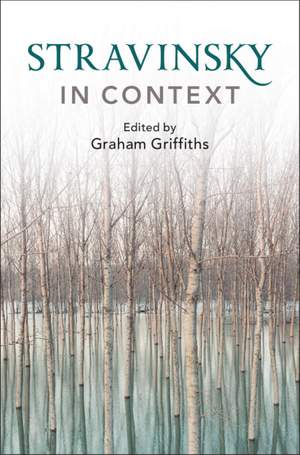 Stravinsky in Context
Editor: Griffiths, Graham
Contents
Preface; List of Contributors; List of Abbreviations;
Part I . Russia and Identity:
1. Memory and truth: Stravinsky's childhood (1882-1901) Catriona Kelly;
2. Religion, life and death in St Petersburg Natalia Braginskaya;
3. Kashperova and Stravinsky: the making of a concert-pianist Graham Griffiths;
4. Reminiscences of Rimsky-Korsakov, his family and artistic circle Lidia Ader;
5. Orthodoxies and unorthodoxies: Stravinsky's spiritual journey Ivan Moody;
6. The Russian soul Rowan Williams;
Part II . Stravinsky and Europe:
7. Sergei Diaghilev and Stravinsky: from world of art to ballets russes John E. Bowlt;
8. Paris and the Belle Epoque Davinia Caddy;
9. Paris, Art Deco, and the spirit of Apollo Jonathan Cross;
10. Stravinsky's Spain: fan or mirror? Graham Griffiths;
11. 'It is Venice that he loves...' Mauricio Dottori;
Part III . Partnerships and Authorship:
12. Stravinsky's sphere of influence: Paris and beyond Inessa Bazayev;
13. Stravinsky and his literary collaborators Maureen Carr;
14. Assuming co-authorship: Stravinsky and his 'ghost-writers' Valerie Dufour;
15. Nadia Boulanger and Stravinsky: the transition to America Kimberly Francis;
16. Conversations with Craft Anna Schmidtmann;
Part IV . Performance and Performers:
17. Challenges to realism and tradition: Stravinsky's modernist theatre Massimiliano Locanto;
18. Igor Stravinsky and ballet as modernism Stephanie Jordan;
19. Stravinsky's ear for instruments Chris Dromey;
20. Towards a conductor-proof ideal Hannah Baxter;
21. The pianist in the recording studio: re-imagining interpretation Daniel Barolsky;
22. The legacy of Stravinsky as recorded history Per Dahl;
Part V . Aesthetics and Politics:
23. Stravinsky versus literature Emily Frey;
24. Stravinsky and Greek antiquity Katerina Levidou;
25. Stravinsky's response to 'Japonisme' Mai Ikehara;
26. Stravinsky, modernism and mass culture Ross Cole;
27. Perspectives on Schoenberg and Stravinsky: Adorno and others Alan Street;
28. Stravinsky's 'problematical' political orientation during the 1920s and 1930s Erik Levi;
Part VI . Reception and Legacy:
29. The Apollonian clockwork re-wound Elmer Schoenberger;
30. Stravinsky reception in the USSR Philip Ewell;
31. The Stravinsky/Craft conversations in Russian and their reception Olga Manulkina;
32. Publishing Stravinsky Nigel Simeone;
33. Copyright, the Stravinsky estate, and the Paul Sacher foundation Heidy Zimmermann;
34. Evoking the past, inspiring the future Lynne Rogers;
35. 'Music is, by its very essence, powerless to express anything at all' Daniel K L Chua; Index.