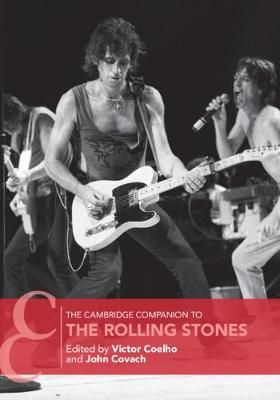 The Cambridge Companion to the Rolling Stones
Editor: Coelho, Victor
Editor: Covach, John
There's an entertaining look at a clutch of Stones country songs ... a decent reassessment of their psychedelic period ... and a welcome upgrade for Brian Jones as founder, world music maverick...

— More…
Contents
Part I . Albums, Songs, Players, and the Core Repertory of the Rolling Stones:
1. The Rolling Stones: albums and singles, 1963-1974 John Covach;
2. Guitar slingers and hired guns: the musicians of The Rolling Stones Bill Janovitz;
3. The Rolling Stones in 1968: in defense of lingering psychedelia John Covach;
4. Exile, America, and the theater of The Rolling Stones, 1968-1972 Victor Coelho;
5. Post exile: The Rolling Stones in a disco-punk world, 1975-1983 Paul Harris;
Part II . Sound, Roots, and Brian Jones:
6. The Rolling Stones's sound: at the crossroads of roots and technology Ralph Maier;
7. Driving Stones country in five songs Daniel Beller-Mckenna;
8. A 'gust of fresh air': Brian Jones, assemblage, and world music Brita Renee Heimarck;
Part III . Stones on Film, Revival, and Fans:
9. Shine a light: The Rolling Stones on film Michael Brendan Baker;
10. Second life and the dynamics of revival: The Stones after 1989 Victor Coelho; Afterword: being a Rolling Stones fan is not a choice but a state of mind Philippe Puicouyoul.