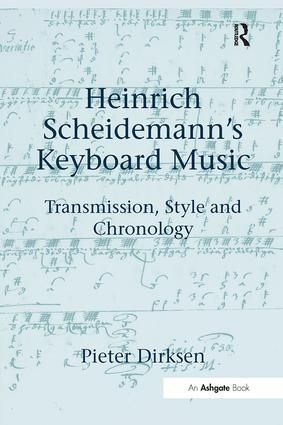 Heinrich Scheidemann's Keyboard Music: Transmission, Style and Chronology
Contents
Contents: Introduction. Part One The Sources: Early sources [i]: the WolfenbA1/4ttel autographs
Early sources [ii]: the 'Sweelinck' sources
Middle-period sources [i]: the Zellerfeld tablatures
Middle-period sources [ii]
Late sources: LA1/4neburg, Pelplin and the 'clavier' anthologies
The dates found in the sources. Part Two Chronology: Toccatas and 'free' imitative pieces
Harpsichord variations and dances
Praeambula and praeludiae
Chorale cycles
Chorale fantasias and Magnificat cycles
Intabulations
Scheidemann's development as a keyboard composer. Part Three Special Studies: More on the DA1/4ben tablature and its background
Scheidemann's 'kunstreiche Manuduction auf dem Clavier': fingering in the Scheidemann sources
Ulf Grapenthin: the Catharinen organ during Scheidemann's tenure
Scheidemann in Otterndorf: registration practice
Appendices
Bibliography
Indexes.