UPDATE: Royal Mail have now resumed shipments on their TRACKED & SIGNED and SIGNED services but delays should be expected, please choose these services if available to you or FEDEX if your order is urgent.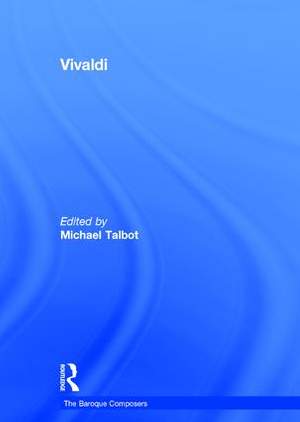 Contents
Contents: Introduction
Part I Biographical Studies: The fortunes of Vivaldi biography, from Pincherle to the present, Michael Talbot
Antonio Vivaldi e i Vivaldi, Gastone Vio
Antonio Vivaldi prete, Gastone Vio
Vivaldi dagli archivi di Mantova, Claudio Gallico
I nove 'principi di altezza' corrispondenti di Vivaldi e la dedica enigmatica del Concerto RV 574. Alla ricerca dell'indirizzario perduto, Carlo Vitali
Documenti inediti su Vivaldi a Roma, Fabrizio Della Seta
Wenzel von Morzin as a patron of Antonio Vivaldi, Michael Talbot
Vivaldi e il Teatro La Pergola a Firenzi: nuove fonti, William C. Holmes. Part II Source Studies: Towards a Vivaldi chronology, Paul Everett
Vivaldi's marginal markings: clues to sets of instrumental works and their chronology, Paul Everett
Vivaldi at work: the autograph of the 'Gloria' RV 589, Paul Everett
Vivaldi's Quadro? The case of RV Anh. 66 reconsidered, Michael Talbot
La famosa mano di Monsieur Roger: Antonio Vivaldi and his Dutch publishers, Rudolf Rasch
Vivaldi and Lotti: two unknown borrowings in Vivaldi's music, Kees Vlaardingerbroek. Part III Analytical and Genre Studies: Le opere giovanili di Antonio Vivaldi, Federico Maria Sardelli
Vivaldi's 'Crucifixus' in its descriptive and rhetorical context, Jasmin Cameron
Formal structure in Vivaldi's variation sets, Nicholas Lockey
'Die schwarze Gredel', or the parallel minor key in Vivaldi's instrumental music, Bella Brover-Lubovsky
Ueber die Beziehungen zwischen einigen Concerto- und Sinfonia-SAtzen Vivaldis, Karl Heller
The dramatic in Vivaldi's cantatas, Colin Timms
Vivaldi's Serenatas: long cantatas or short operas?, Michael Talbot
Antonio Vivaldi's setting of Teuzzone: dramatic speech and musical image, Reinhard Strohm
Name Index.