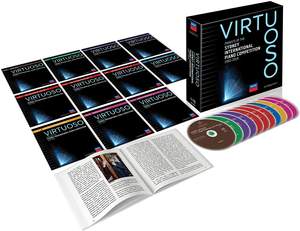 Offer

,

 Pianists of the Sydney International Piano Competition (1992-2016)
Charlie Albright (piano), Hiroshi Arimori (piano), Yurij Bogdanov (piano), Michele Bolla (piano), Kenneth Broberg (piano), Olivier Cazal (piano), John Chen (piano), Moye Chen (piano), Roberto Cominati (piano), Hanna Cyba (piano), Daniel del Pino (piano), Shan Deng (piano), David Fung (piano), Yui...
11 CDs
Original price
($52.00)
Reduced price
$41.50
Contents
CD 1: BAROQUE
- J.S. Bach, Scarlatti, Handel, Bach/Busoni
CD 2: CLASSICAL
- Beethoven, Haydn, Mozart, Schubert
CD 3: THE ROMANTICS
- Brahms, Chopin, Granados, Liszt
CD 4: ROMANTICS cont.
- Mendelssohn, Rachmaninov, Schumann, Taneyev
CD 5: THE TWENTIETH CENTURY
- Berg, Copland, Debussy, Fabregas, Ginastera
CD 6: 20th CENTURY cont.
- Kapustin, Ligeti, Menotti, Poulenc, Prokofiev, Ravel, Scriabin
CD 7: 20th CENTURY cont.
- Shchedrin, Shostakovich, Sibelius, Stravinsky, Zaderatsky
CD 8: TRANSCRIPTIONS & ENCORES
- Balakirev, Gluck/Sgambati, J. Strauss/Schulz-Evler, Liszt, Macdowell, etc.
CD 9: AUSTRALIAN PIANO MUSIC
- Agnew, Benjamin, Carr-Boyd, Dean
CD 10: PIANO CONCERTOS
- Liszt
CD 11: PIANO CONCERTOS cont.
- Rachmaninov, Prokofiev