UPDATE: Royal Mail have now resumed shipments on their TRACKED, TRACKED & SIGNED and SIGNED services but delays should be expected, please choose these services if available to you or FEDEX if your order is urgent.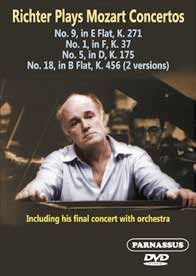 Richter Plays Mozart Concertos
Sviatoslav Richter (piano)
French National Radio Orchestra, Shinsei Nihon Symphony Orchestra, Moscow State Symphony Orchestra, Lorin Maazel, Rudolf Barshai, Kyril Kondrashin
Contents
Mozart: Piano Concerto No. 9 in E-flat major, K271 "Jeunehomme"
July 3, 1966, Tours
Sviatoslav Richter (piano)
French National Radio Orchestra
Lorin Maazel
Mozart: Piano Concerto No. 1 in F major, K37
March 3, 1994, Tokyo
Sviatoslav Richter (piano)
Shinsei Nihon Symphony Orchestra
Rudolf Barshai
Mozart: Piano Concerto No. 5 in D major, K175
March 3, 1994, Tokyo
Sviatoslav Richter (piano)
Shinsei Nihon Symphony Orchestra
Rudolf Barshai
Mozart: Piano Concerto No. 18 in B flat major, K456
March 3, 1994, Tokyo
Sviatoslav Richter (piano)
Shinsei Nihon Symphony Orchestra
Rudolf Barshai
Mozart: Piano Concerto No. 18 in B flat major, K456
January 9, 1977
Sviatoslav Richter (piano)
Moscow State Symphony Orchestra
Kirill Kondrashin