Gramophone Awards
The Gramophone Awards - often called the Oscars of the classical music world - are the most significant honours bestowed on the classical record industry.
Now running annually in September you can view details of the most recent winners below, as well as browse through all winners going back to the very first awards in 1977.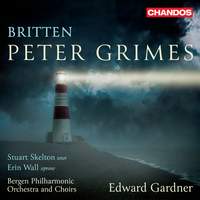 Gramophone Recording of the Year 2021
The Recording of the Year prize was awarded to Stuart Skelton for his performance as the title role in Benjamin Britten's Peter Grimes, a recording which also features Erin Wall, Roderick Williams and Susan Bickley, with the Bergen Philharmonic Orchestra and Chorus conducted by Edward Gardner. The recording was praised as 'An exciting, committed, necessary and brilliantly recorded version for our times'.
Available Formats: 2 SACDs, MP3, FLAC, Hi-Res FLAC
Gramophone Awards 2021 - Winning Recordings
Browse All Previous Winners:
Gramophone Awards 1977-2020
Browse by Year:
Gramophone Awards 1977-2020
Featured Composers:
Gramophone Awards 1977-2020
More Composers:
Gramophone Awards 1977-2020
Browse by Era:
Gramophone Award Winners