6th February 2023
Announcement

,

The Oxford Book of Choral Music by Black Composers
The Oxford Book of Choral Music by Black Composers is a landmark collection of non-idiomatic compositions from the sixteenth century to the present day, providing a comprehensive introduction to an area of choral music that has been historically under-represented. This unique anthology seeks both to improve representation in the historical canon and to showcase the music of some of the best names in choral music today.
Including thirty-five pieces for SATB choir, the collection includes a mixture of both sacred and secular works, including anthems, choral art songs, madrigals, motets, and part-songs. Several of the pieces have never been published before, with compositions from the Renaissance, Classical, and Romantic eras, in addition to the twentieth and twenty-first centuries. Composers included in the anthology come from a variety of nations including Brazil, Canada, Portugal, the United Kingdom, and the United States.
The collection includes a general introduction, biographical information for each composer, and commentary for each piece, including editorial practice and source information where applicable. Playable piano reductions for rehearsal purposes are also included where necessary.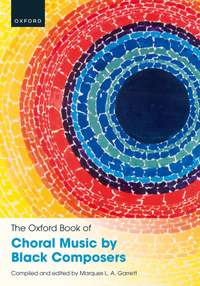 The Oxford Book of Choral Music by Black Composers was edited by Marques L. A. Garrett, an established conductor, educator, and composer whose works have been performed to acclaim by high school all-state, collegiate, and professional choirs. Awarded a PhD in Music Education (Choral Conducting), he also serves as artistic director and conductor of the Omaha Symphonic Chorus and as founding artistic director and conductor of the Nebraska Festival Singers.
Composers featured in the collection include: Vincente Lusitano, Florence Price, R. Nathaniel Dett, Zanaida Robles, B. E. Boykin, Robert A. Harris, H. Leslie Adams, Uzee Brown, Ken Burton, Mark Butler, Nathan Carter, Charles D. Coleman, Samuel Coleridge-Taylor, James Furman, José Maurício Nunes Garcia, Marques L. A. Garrett, Damien Geter, Adolphus Hailstork, Christopher H. Harris, Ulysses Kay, David Hurd, Betty Jackson King, Edward Margetson, Lena J. McLin, Dorothy Rudd Moore, Undine Smith Moore, Carlos Simon, Julia Perry, Trevor Weston, John W. Work III, and Reginal Wright.