19th January 2023
Announcement

,

Ralph Vaughan Williams: A Sea Symphony
Photo from the Vaughan Williams Foundation
Ralph Vaughan Williams was one of the great symphonists of the 20th century. To this day he remains one of Britain's most popular composers; his composition The Lark Ascending is regularly voted the UK's favourite classical work. Not only did he create important works in most major musical forms and genres, he championed music-making in the community, and was an active collector of folksongs. October 2022 marked the 150th anniversary of Ralph Vaughan Williams' birth, and to celebrate, many publishers have released new editions of the composer's works.
Stainer & Bell are the latest to contribute to the anniversary celebrations with their new edition of A Sea Symphony.
The vocal score of A Sea Symphony was first issued by Stainer & Bell in 1918, with the orchestral score being published six years later. Reflecting the experience of performances following the 1910 Leeds Festival premiere, together they included Vaughan Williams's revisions up to that time, and have remained the staple texts for performances and recordings of the work for over a century. However, with the preparation of a new edition of the full score incorporating the evidence of the composer's further thoughts over four decades, and correcting errors and inconsistencies that came to light after a thorough checking of the source materials, the need to create a fresh redaction of the vocal score proved a welcome opportunity. 
The result, presented in a modern, accessible engraving style, is fully compatible with its predecessor, retaining rehearsal marks but also adding bar numbers to assist choirs using a mixture of both scores. Where appropriate, the layout of the piano part has been altered for greater consistency and ease of playing, and discrepancies of punctuation, word division and capitalisation in the underlay, overlooked in the original setting, have been corrected according to contemporary best practice. The occasional archaic language of some footnotes has been revised. Walt Whitman's text is reproduced diplomatically, as set by the composer.
A complete account of the editorial procedure will be found in the preface and critical commentary of the new edition of the full score, to be published in 2023 along with newly originated performing material.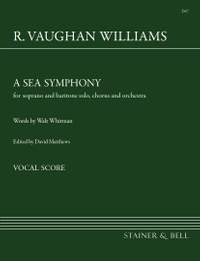 Vocal Score | SATB Choir & Piano
A fresh redaction of Vaughan Williams's A Sea Symphony vocal score by Stainer & Bell.
Available Format: Sheet Music
More Vaughan Williams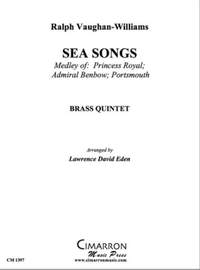 Cimarron Music Press | Brass Quintet | Set of Parts
A jovial setting of this Vaughan-Williams classic with great moving lines for all players. Arranged for two trumpets, horn, trombone, tuba and score. Consisting of a medley of: Princess Royal; Admiral Benbow; Portsmouth.
Available Format: Sheet Music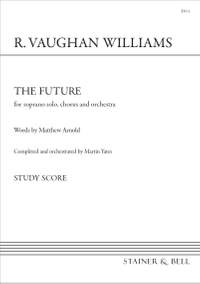 Stainer & Bell | Study Score
Boldly reimagined and completed by Martin Yates, The Future, a substantial non finito draft of a major choral setting of words by Matthew Arnold, dates from 1908, immediately after Toward the Unknown Region, and in the crucial year of Vaughan Williams's three-month tutelage with Ravel in Paris. The Future is around 35 minutes' duration, for solo soprano, chorus and orchestra, and it will without question be seen as an essential link in the evolution of VW's embracing universal vision of humanity, expressed uniquely for all time in A Sea Symphony.
Available Format: Sheet Music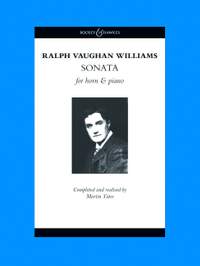 Boosey & Hawkes | Horn & Piano
Substantial four-movement work composed around 1903 for the German-born virtuoso Adolph Borsdorf, professor of French Horn at both the Royal College of Music and the Royal Academy of Music, London. The complete horn part survives in manuscript in the British Library along with sketches for the piano part. Martin Yates has recreated the piano part at the request of the Vaughan Williams Charitable Trust. An important new addition to the horn repertoire of this period, released to mark the composer's 150th anniversary year.
Available Format: Sheet Music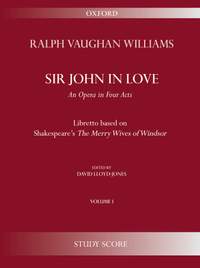 Oxford University Press | Study Score
This four-act comic opera celebrating Shakespeare's Sir John Falstaff was given its first professional performance in 1946. The work contains English folksong material and fine examples of the composer's orchestral lyricism and dramatic flair. For this comprehensive new edition, the editor (and conductor) David Lloyd-Jones has drawn on all available sources, providing an authoritative Study Score with critical commentary.
Available Format: Sheet Music