11th January 2022
 Anniversary

,

  Breitkopf & Härtel Celebrates Joachim Raff's 200th Anniversary
Portrait courtesy of the Joachim Raff Archive
In cooperation with the Joachim Raff Society, this year Breitkopf & Härtel will be issuing a series of Joachim Raff scores in newly edited and typeset Urtext editions to celebrate the 200th anniversary of the composer's birth. Planned editions for this anniversary year include Raff's 6 Morceaux op. 85, Cello Sonata op. 183, String Quartet's No. 6-8 op. 192, Concerto for Cello and Orchestra in D minor op. 193, Symphony No. 5 in E major 'Lenore' op. 177, and Frühlingsboten - 12 Piano Pieces op. 55.
With these editions, Breitkopf & Härtel describe how "Joachim Raff unfolded his creativity in the close vicinity of both the 'New German School' around Liszt and the 'Traditionalists' around Brahms." As well as being highly esteemed by his colleagues "Raff also succeeded gradually in convincing publishers and concert audiences of the quality of his numerous compositions: His chamber music works as well as his symphonies enjoyed great popularity not only among connoisseurs and now deserve to regain a permanent place in the concert repertoire."
A few chamber and piano works are already available from the publisher as study scores and sets of parts, alongside the works mentioned above already in preparation. You can browse the editions currently available below.
Breitkopf & Härtel's Joachim Raff Catalogue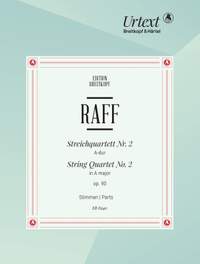 Raff composed his second Quartet in A major, op. 90, in Wiesbaden, the spa town that was to become his home for 21 years. His two quartets are unequivocal works: orchestrally-conceived, full of energetic vigor, and at times uncompromisingly modern. They confidently continue the Beethoven tradition and attest at the same time to Raff's intensive confrontation with Richard Wagner's music during the Weimar years. The quartets, first published in 1860/62, found illustrious interpreters, among them, the Müller brothers' renowned ensemble, to which opus 90 was also dedicated, and Joseph Joachim.
Available Format: Sheet Music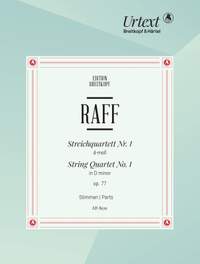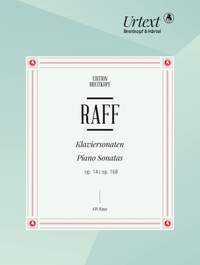 The three piano sonatas by Joachim Raff, representing his three main creative phases, occupy a special position among his more than 100 piano pieces. Raff composed the early sonata op. 14 in 1844 after his first works were positively evaluated and Felix Mendelssohn Bartholdy had encouraged him to venture a career as a composer. The Fantasie-Sonate in d minor op. 168, Raff wrote in 1871 at the height of his fame as one of Germany's then most-played composers.
Available Format: Sheet Music