1st April 2021
 Announcement

,

  Schumann's Cello Concerto Rediscovered
Robert Schumann's tragic last years have embroiled many of his greatest compositions in unnecessary doubt. The suppression of his Violin Concerto by well-meaning friends is relatively well-known. However, few people know that the version of the Cello Concerto that is most often heard today is far from Schumann's original conception of the work, not only in details of phrasing and articulation, but also featuring a different ending with a bold final flourish from the cello. Composed in a burst of inspiration in two weeks in October 1850, shortly after he and Clara had moved to Düsseldorf, Robert (who in 1850 was still in good health) never heard the piece performed. In an effort to promote a performance of the work, he gave the score to the cellist Robert Emil Bockmühl. Bockmühl made revisions that Schumann resisted, and the hoped-for performance never happened. Schumann's health failed and he died aged just 46 in 1856. The Concerto, in an already substantially revised form, was premiered in 1860 but it was not given significant recognition until it was championed by Pablo Casals in the 20th century by which time the text for the work had already accreted additions and alterations from generations of soloists.
In this new Urtext edition, internationally renowned cellist Josephine Knight has returned to the original 1850 manuscript of the Cello Concerto in A minor, Op. 129, held in the Biblioteka Jagiellońska in Kraków. Reflecting Schumann's original conception of the work as a Concertstück and restoring the composer's musical text, this edition removes generations of inauthentic editorial interventions, and includes many new corrections and clarifications; particularly in the cello part which adds Knight's fingering and bowing suggestions. It is presented in a beautifully printed edition for cello with Schumann's original piano reduction. A critical commentary and scholarly preface by Knight detailing the history of the work is also included.
'My ultimate wish,' says the editor, 'is to give performers both access to, and confidence that they are playing from, an edition which is a true representation of the piece in its original form, no matter how much more difficult this might be. I found that incorporating the changes enabled the piece to take on a completely different character – one that is lighter and happier, even "cheerful", as Schumann himself described the work.'
A recording of the Concertstück featuring Josephine Knight is also available here.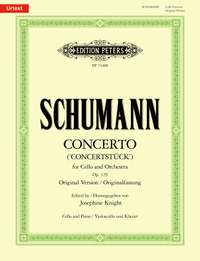 Robert Schumann Concerto for Cello and Orchestra (Concertstück), Original Version. Edition for Cello and Piano.
Available Format: Sheet Music