25th March 2021
 Announcement

,

  Viardot-García: Selected Songs from Breitkopf & Härtel
Born in Paris on July 18th, 1821 to a Spanish family of musicians, Pauline Viardot-Garcia was a versatile musician, pedagogue, and composer, and an important representative of bel canto performance tradition in the 19th Century. Best known as a French mezzo-soprano, she was renowned for her highly dramatic Opera roles and her wide vocal range. In her profession as a singer she travelled the world, and many of her compositions reflect the musical idioms of the countries where she lived and worked. She famously collaborated with composers including Berlioz, Meyerbeer, Gounod, and Massenet.
In her younger years she was also a prolific pianist. She studied piano with Franz Liszt, and often provided piano accompaniment to her father's (Manuel Garcia) vocal students. She also studied composition with Anton Reicha, and voice with her mother (Joaquina Sitches).
Viardot-García was an active composer who published around two-hundred songs in her lifetime. Her compositions for solo voice and piano make up the majority of her oeuvre, which showcase her expert knowledge and experience of the voice and piano. Compositions include French chansons, romances, and melodies, German songs and ballads, and Russian romances. Fluent in five languages, her compositions were often published bilingually, and include texts by French, Russian, and German poets such as Victor Hugo, Alexander Pushkin, and Johann Wolfgang Goethe.
Pauline Viardot-García: Selected Songs Volume 1
This year marks the 200th anniversary of Pauline Viardot-García's birth, and to celebrate the occasion Breitkopf & Härtel have published the first critical edition of her songs. Pauline Viardot-García: Selected Songs Volume 1 is based on autograph fair copies by the composer collected in one album. Volume one includes settings of Russian texts by Pushkin, Feth, and Turgenev as well as Italian-language songs based on Tuscan folk lyrics. All songs are accompanied by German translations, which were specifically prepared for the German first edition in the 19th century.
In addition to her own use, the sought-after vocal pedagogue also wrote songs for her students. Accordingly, the songs included in this volume are suitable for different vocal genres in terms of their ranges and expressive content. For example, songs such as Zwei Rosen, L'innamorata or Das Vöglein are suitable for light, high voices, while lyrical, lower voices can find suitable songs with Ruhige, heilige Nacht, Flüstern, atemscheues Lauschen or C'era una volta. For versatile voices with a gift for coloratura, Non vi maravigliate is a little showpiece, while voices with the ability for dramatic accents can sing songs like Die Beschwörung or Mitternächtige Bilder. Unlike the sometimes very long Russian songs, the consistently short Italian songs are well suited as an introduction to the easier Italian repertoire. The songs depict clearly defined scenes within which the singers are able to develop their respective characters.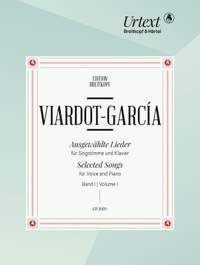 This publication is the first critical edition of Pauline Viardot's songs. It is based on fair copies by the composer, who was one of the most versatile singers and important representatives of the bel canto performance tradition in the 19th century. Includes transliteration of the Russian text, and a critical report.
You can browse more publications by Viardot-García here.
Available Format: Sheet Music