11th August 2020
 Anniversary

,

  Celebrating 250 Years of Schott Music
Since its beginnings in 1770, Schott Music has been a family-owned business and today, the parent company in the historic city of Mainz, along with its international subsidiaries, is headed by president and managing director Dr Peter Hanser-Strecker.
With its broad and international publishing programme, ranging from performance and educational literature, urtext editions, teaching methods, specialist journals, choral music, jazz, study scores, complete editions, books on music, and CDs, Schott Music has influenced all areas of musical life.
To celebrate Schott's 250th Anniversary, until the end of September we are offering up to 25% off Schott music publications. You can browse the special offer here.
A Brief History of Schott Music
Schott Music was founded by Bernhard Schott in 1770. Bernhard was the son of Nikolaus Schott, a baker, innkeeper, and part time music engraver who taught Bernhard the skill of music engraving, leading to the establishment of the publishing house in Mainz. By 1780 Bernhard became the Court Music Engraver which meant no-one else was permitted to print music in the Electorate of Mainz. The company would however face turbulent times in the years to come, particularly with the French Revolution, and periods of debt and financial difficulties. In 1809 after Bernhard Schott's death, his sons were named his successors. In 1818, the business officially became Johann Joseph and Andreas Schott's and they renamed the publishing house B. Schott's Söhne.
The sons expanded the publishing program step by step to include works by major composers, above all Italian and French operas and opera reductions, including works by Bellini, Rossini, Donizetti, and Daniel François Esprit Auber. It is around this time that the first real heyday of the company began. Important late works by Beethoven were published (including his Symphony No. 9 and Missa solemnis), and the collaboration with Richard Wagner was established leading to the enormous financial investments in his stage works, The Mastersingers of Nuremberg, The Ring of the Nibelung and Parsifal.
The nineteenth century saw many new branches opening in Europe, as well as a number of branch closures; one of the most successful openings was the London Schott branch, which opened in 1835, and by 1879 had become the official music shop of Queen Victoria. This period also saw the publication of magazines, the introduction of selling and producing instruments, and the opening of Schott's lending library for sheet music; a tradition continued today. Schott now provides theatres, opera houses, and orchestras around the world with performance material for almost 10,000 concert and stage works.
Fast-forwarding to the twentieth century, the devastating two world wars caused a lot of damage to Schott's properties, including a storage facility and printing office being completely destroyed, and the main building being burnt down to the third floor. This led to arduous years of reconstruction after 1945.
In more recent years there has been a consistent expansion into a modern media company and an internationally operating publishing group. Apart from classical music, their repertoire also covers many other music genres like pop, rock, jazz and world music. A main focus is the publication of works by 20th- and 21st-century composers, including Carl Orff, Igor Stravinsky, Michael Tippett, Paul Hindemith, György Ligeti, Krzysztof Penderecki, and Hans Werner Henze.
If you would like to find out more about Schott's history you can visit Schott's timeline here
Celebrating Schott's 250th Anniversary
Schott Music's motto is 'Joy of Music' because Beethoven's Symphony No. 9, published by Schott in 1826, is one of the most important works in musical history, featuring Schiller's famous final chorus of 'Ode to Joy'. In Happy Birthday Schott Music, top arranger Carsten Gerlitz devotes himself to arranging perhaps the most popular melody by Beethoven and nine other treasures from the Schott programme. He interprets a selection of original works by Wagner, Humperdinck and more with great care and respect in his unmistakeable, atmospheric lounge style.
Available Format: Sheet Music/Online Material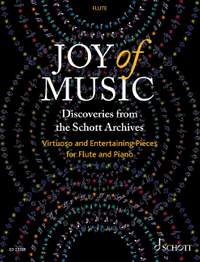 Virtuoso and Entertaining Pieces for Flute and Piano
To mark the 250th anniversary of Schott Music, these treasures have been uncovered from the archives, reedited and presented in these beautiful editions. This anthology is aimed at intermediate to advanced flautists looking for some interesting new discoveries away from the standard repertoire.
Also available for clarinet, piano, violin and cello.
Available Format: Sheet Music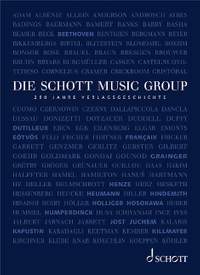 250 years of Schott! There are only few family businesses that can celebrate such a proud anniversary. The richly illustrated volume is complemented by essays on the most important areas of the publishing house, especially on its educational commitment, as well as on topics such as the publishing archives and sheet music production.
Available Format: Book