US Airmail Charges: As a knock-on effect of COVID-19 airfreight prices around the world have soared. Reluctantly, we have had to pass on some of this increase in our standard airmail prices. We'll bring them down again as soon as we can!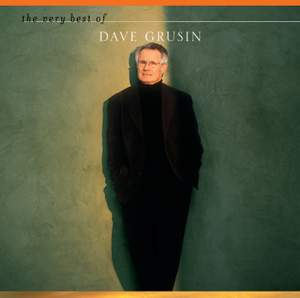 The Very Best Of Dave Grusin
Grover Washington, Jr. (saxophone), Francisco Centeno (bass guitar), Ralph McDonald (percussion), Steve Gadd (drums), Don Elliott (background vocalist), Dave Grusin (keyboards), Ron Carter (double bass), Dave Grusin (piano), Rubens Bassini (percussion), Jimmy Johnson (double bass), Paulinho Da Costa...
Contents
Grover Washington, Jr. (saxophone), Francisco Centeno (bass guitar), Ralph McDonald (percussion), Steve Gadd (drums), Don Elliott (background vocalist), Dave Grusin (keyboards)
Recorded: 1977
Recording Venue: Electric Lady Studios: NYC, NY
Grover Washington, Jr. (saxophone), Ron Carter (double bass), Steve Gadd (drums), Dave Grusin (piano)
Recorded: 1977
Recording Venue: Electric Lady Studios: NYC, NY
Rubens Bassini (percussion)
Recorded: 1983-01-01
Recording Venue: The Review Room: NY
Grusin: Early A.M. Attitude
4:58
Jimmy Johnson (double bass), Carlos Vega (drums), Paulinho Da Costa (percussion)
Recorded: 1985-01-01
Recording Venue: The Starlight Studios: Burbank,CA
Omar Hakim (drums), Branford Marsalis (soprano saxophone), Marcus Miller (bass), Mike Fisher (percussion)
Recorded: 1989-01-01
Heyward Du Bose, Ira Gershwin, George Gershwin: My Man's Gone Now
6:51
Dave Weckl (participant), John Patitucci (participant), Dave Grusin (participant), Eric Marienthal (participant), Sal Marquez (participant)
Recorded: 1991-01-01
Recording Venue: Ocean Way Recording
Gershwin: Fascinatin' Rhythm
5:01
Dave Weckl (participant), John Patitucci (participant), Gary Burton (participant), Dave Grusin (participant)
Recorded: 1991-01-01
Recording Venue: Ocean Way Recording
Strayhorn: Take the A Train
3:20
Recorded: 1993-01-01
Recording Venue: Sunset Sound Studios, Los Angeles, CA
Duke Ellington, Irving Mills, Juan Tizol: Caravan
6:14
Brian Bromberg, Harvey Mason
Recorded: 1993-01-01
Recording Venue: Sunset Sound Studios, Los Angeles, CA
Mancini, H: Baby Elephant Walk
3:55
Tollak Ollestad, Andrew Martin, Tom Scott, Daniel Higgins, Eric Marienthal, Jerry Hey, Gary Grant, John Patitucci, Harvey Mason
Recorded: 1997-01-01
Recording Venue: Avatar Studios, NYC
Harvey Mason, Russell Malone, Daniel Higgins, John Patitucci, Eric Marienthal, Gary Grant, Jerry Hey, Andrew Martin, Tom Scott
Recorded: 1997-01-01
Recording Venue: Avatar Studios, NYC