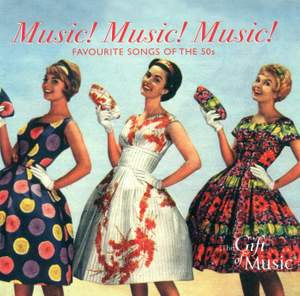 Music! Music! Music!
Favourite Songs of the 50s
Nat King Cole (vocals), Rosemary Clooney (vocals), Frankie Vaughan (vocals), Alma Cogan (vocals), Tab Hunter (vocals), Frank Sinatra (vocals), Andy Williams (vocals), Kitty Kallen (vocals), Paul Anka (vocals), Kay Starr (vocals), Johnnie Ray (vocals), Doris Day (vocals), Dean Martin (vocals), Ruby...
Contents
Merrill, B: Mambo Italiano
Rosemary Clooney (vocals)
Dennis Norwood: The Garden of Eden
Styne: Three Coins in the Fountain
Edith Lindeman: Little Things Mean a Lot
Sherman, A: Comes A-Long A-Love
Johnny Bragg: Just Walking in the Rain
Livingston, J: Whatever Will Be, Will Be (Que Sera, Sera)
Gilkyson, T: Memories are Made of This
Paddy Roberts: Softly, Softly
Rodgers, R: No Other Love
Melvin Endsley: Singing the Blues
Hy Zaret: Unchained Melody
Paddy Roberts: Lay Down Your Arms
Al Lewis: The Finger of Suspicion (Points at You)
Dickie Valentine (vocals)
Jack Lawrence: Hold My Hand
Snyder, T: Who's Sorry Now?