14th January 2022
 Recording of the Week

,

  Andrea Motis, 'Colors & Shadows'
Being championed by the likes of Quincy Jones while still only in your mid-20s certainly sets the bar pretty high for Andrea Motis, a young musician coming from Barcelona. Both a trumpeter and vocalist who sings not only in her native Spanish, but also English, Portuguese, and even Catalan, her dual-duty approach to playing music inevitably leads to comparisons with Chet Baker; and while her promotional material compares her favourably to Astrud Gilberto, of 'The Girl From Ipanema' fame, there's much more to Andrea Motis' music than a simple pastiche of Latin jazz sounds. Though this isn't Motis' first studio outing - the young trumpeter-vocalist already has a small handful of releases under her belt, and on labels like Impulse! Records no less - her latest album Colors & Shadows does mark her first time working with the WDR Big Band Cologne, under the direction of Mike Mossman. Andrea's undoubtedly biggest project to date is mostly comprised of original tunes that run the gamut of her Latin jazz influences, but also more traditional-sounding big band goodness and classic vocal jazz, with not only the leading lady herself shining in the performances but her bandmates in the WDR Big Band, too.
It's the opening track 'I Didn't Tell Them Why' where Andrea and the rest of the WDR Band showcase their many musical points of reference for the album, as it zig-zags between traditional swinging big band music with Andrea's vocals leading the way, to a piano-led samba it switches into halfway through with Andrea grabbing her trumpet for a fiery solo. Other original tunes like 'Sombra de La' draw similarly on rhythms originating in Latin jazz, and then there's covers of Latin jazz standards like Adoniran Barbossa's 'Iracema', or 'Tabacaria' which sets the words of Portuguese poet Fernando Pessoa's work of the same name to music by fellow trumpet player Joan Mar Sanqué. Andrea's influences from Spanish and Latin music is clear, a tribute to her heritage, but like I said, there's more to Colors & Shadows than this approach. WDR Big Band leader Mike Mossman has done an excellent job at interpreting Andrea Motis' original works - and her choices of standards - for this large ensemble. The band's version of Horace Silver's 'Señor Blues' in particular stands out as one of the most pleasingly-constructed arrangements; a soft, counterpointal brass section opens the track with a subtle Spanish guitar solo, and the woodwind section that follows after is just as delicate as Motis comes in on vocal duties.
The Motis original 'Sense Pressa' makes for both a nice low-key pace breaker in the middle of Colors & Shadows and a beautifully atmospheric track, with more soft woodwinds combined with Spanish guitar as Motis complements with some gentle vocals, while the tune 'Brisa' gains a playful edge with the dancing flute melodies and more scatted vocals from Motis. The WDR's guitarist-in-residence certainly gets his time to shine on plenty of tracks, while other members of the band make themselves known - see the incredibly slick tenor sax solo that comes in during the latter half of 'Iracema'.
Andrea Motis is in great company when it comes to Latin-big band crossovers, with her aforementioned champion Quincy Jones and Stan Getz both having released their own takes on the style - both named Big Band Bossa Nova and releasing in 1962 - but it's perhaps fair to say that both styles have sadly fallen out of favour in contemporary jazz. The style is only served well with the meticulous attention to detail which Mike Mossman and the rest of the WDR band pay to Andrea's music. Colors & Shadows not only continues the WDR Big Band's recent spell of great releases - following their work with both Bob Mintzer and Fay Claasen & David Linx last year - but also Andrea Motis' own unbroken streak still so early in her career.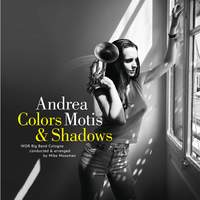 Available Formats: CD, MP3, FLAC, Hi-Res FLAC