7th January 2022
 Recording of the Week

,

  Nadav Berkovits, 'Waking the Heart'
Growing up in a household that surrounded him with the sounds of not only jazz, but also classical and Afro-Cuban music, as well as the music of his native Israel, pianist Nadav Berkovits' diverse upbringing sees his debut album Waking the Heart draw from many different cultures. While there's naturally the consistent undercurrent of traditional American jazz music, there's also a strong Middle-Eastern folk influence at work, and some of the more adventurous rhythmic passages are informed by the sounds of Latin and Cuban jazz. Berkovits has been a fan of the Cuban sound for quite some time, even taking a trip out to Havana in 2018 to immerse himself in the capital's musical history. It proved to be quite the spiritual journey for Berkovits, who recounts that "it led me to an inner search". Much of the material was written between Havana, India and Egypt, as well as his hometown of Jerusalem, but not formally compiled until 2020 when - like many musicians - Berkovits suddenly found himself with a lot of time on his hands. But Waking the Heart is far from a pastiche of Cuban and Israeli jazz; the young pianist treats his influences with the utmost respect without wearing them on his sleeve. There's always the risk of these kinds of cross-cultural fusions coming across a little clumsy or hackneyed, but by sticking to his straight-ahead jazz setup Waking the Heart manages to stay remarkably focussed.
Making his studio debut with Ubuntu Music with a sextet, Berkovits is joined by some equally bright up-and-comers from the Israel jazz scene; trumpeter Itamar Borochov, tenor saxophonist Yuval Drabkin and guitarist Omri Bar Giora take care of most lead duties when Berkovits himself isn't in the spotlight, while the excellent rhythm section of bassist Oz Yehiely and drummer Shai Yuval do a lot of the legwork on the more rhythmically tricky tracks like 'España'. It's 'The Dream' that boldly begins the record, though, with lush sheets of rumbling piano as Borochov and Drabkin's brass slowly emerge from the cacophony. The pianist's songcraft isn't in question here as the tune opens up into a lyrical head melody, while later developments see trumpeter Borochov take a solo above an ambient bed of sound, before the band pick up again for a final run at the melody. Borochov takes the lead again on the similarly twisting melodies that appear on 'Ras', another tune digging into the sounds of Berkovits' home country - similarly opening up with a dark rumble of piano with solemn trumpet accompaniment. There's some careful unison interplay between the band, Borochov and Berkovits trading off the spotlight throughout, while Drabkin gets some excellent leadwork in on 'Eurydice'.
With so many young artists on its roster, Ubuntu Music has certainly become quite the hub for exciting young jazz talent throughout most of the world; Nadav Berkovits is in good company on his new label. On the closing track 'Lament', Berkovits completes his round-the-world musical trip with a markedly more American track, a slow-swinging, bluesy waltz; a neat tribute to the ultimately American style of music himself and his sextet play, comparatively straightforward as opposed to the more adventurous twists and turns the rest of Waking the Heart can take.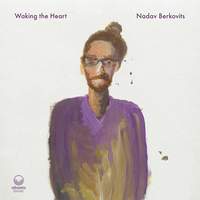 Available Formats: MP3, FLAC, Hi-Res FLAC