10th December 2021
 Recording of the Week

,

  Bill Charlap Trio, 'Street of Dreams'
Photo by Philippe Lévy-Stab
Bill Charlap's always played it pretty straightforward; that's not a bad thing, as within the tried-and-true formula of the jazz piano trio, his has always been the cream of the crop as far as traditionalists go. With a well-honed style tempered by his time working in multiple New York jazz bands - sharing the stage with everyone from Gerry Mulligan to Benny Carter - Charlap isn't so much a composer himself, but his intuition is razor-sharp when it comes to interpreting others' pieces. While 2015's Silver Linings with Tony Bennett had him diving deep into the music of Jerome Kern, 2004's Somewhere had Charlap and his usual trio (also present here) taking on compositions by Leonard Bernstein. These trio bandmates, Peter Washington and Kenny Washington (no relation), have been by Charlap's side since the late '90s, and as with any long-standing trio like this you can expect that over two decades of working together has only bolstered this chemistry. Like any other past Charlap record we're treated to a selection of standards, albeit this time a mixture of his favourites from Ellington to Brubeck, Burrell to Strayhorn, with all the charm of golden-era piano trio jazz.
Photo by Philippe Lévy-Stab
Much of the material on Streets of Dreams hails back to the '50s and '60s bebop sounds, with Kenny Burrel's 'Your Host' picked from 1956's Jazzmen In Detroit, and while Johnny Green's 'Out of Nowhere' dates back to the 1930s it was its popularity with folks like Charlie Parker and Chet Baker that sees it featured here. Opening the album with Dave Brubeck's 'The Duke' is perhaps the most succinct example for Charlap and the Washingtons' approach to standards. Kicking the processions off with a laid-back swing, the whole trio find themselves deep in the pocket, Kenny W slipping in the odd subtle rhythmic trick before switching his brushes for sticks halfway through as the tune starts to take off. Charlap hardly misses a beat in his improvisation, though unsurprisingly this is the case throughout Street of Dreams. The Duke himself makes an appearance on the following 'Day Dream' (written by Ellington and Billy Strayhorn), and together with Frank Loesser's 'I'll Know' they make for some of the sweetest balladic moments on the record.
Peter Washington generally keeps it low and slow at the back of the trio for the most part, but it's his low-end swagger that serves the classy swing on Kenny Burrell's 'Your Host', and he does occasionally take a more central role in the tunes like on 'Out of Nowhere' where both the Washingtons get to let loose a little. Other highlights include the swaying, romantic 'What Are You Doing the Rest of Your Life?'; it's one of the few moments where the spotlight is pointed squarely at Charlap, as he channels some Evans-ian chops; it's moments like this where Charlap's attention to detail is most apparent as even his bandmates keep a little distance. It would be all too easy for your average trio to pick a handful of tunes and call it a day, but Charlap and the Washingtons' long-developed chemistry has raised the bar incredibly high - it's good to know there's still folks out there who can play it totally straight-ahead and still deliver. If it's no-nonsense American Songbook jazz you're after, look no further this month.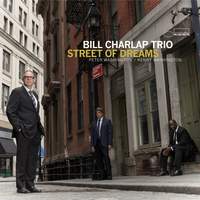 Available Formats: CD, MP3, FLAC, Hi-Res FLAC