22nd October 2021
 Recording of the Week

,

  Esperanza Spalding - Songwrights Apothecary Lab
Over the course of her near two-decade-long career, jazz bassist, vocalist and composer Esperanza Spalding has proven herself to be quite the adaptable artist. Her 2006 debut Junjo, released when she was only 22, featured Spalding in a comparatively orthodox jazz context; a traditional trio with Spalding at the helm providing both bass and wordless vocals. Following the Latin & Cuban jazz-influenced records Esperanza and Chamber Music Society, Spalding made a number of guest appearances on albums by pop artists like Janelle Monáe's The Electric Lady and Bruno Mars' Unorthodox Jukebox, but in her own work, Spalding has continued to push the boundaries of her identity as a 'jazz musician', with a number of experimental projects, in both sound and approach.
Following works like Exposure, which was recorded live on stream over the course of 77 consecutive hours (though she made sure to sleep in-between), and her concept record Emily's D+Evolution which combined influences from jazz fusion, funk and art rock as well as a Bowie-esque alter-ego in 'Emily', the bassist's latest project, Songwrights Apothecary Lab, is equally ambitious. Written in several months with a variety of different collaborators, the album itself brings together everything from miniature-suites, to tender duets and devotional jazz, showcasing the now multifaceted nature of Spalding's musical personality.
Pictured: Esperanza Spalding & Corey King, photo credit: Holly Andres
Each sequentially-numbered track, or 'Formwela', is written with an intended effect on the listener; for example, 'Formwela 1' is "designed for memorizing, then hearing internally (via audiation) as an aide to self-soothe during an acute moment of stress in the home", while 'Formwela 8' is "For dissolving anxiety-induced tactics of self-regulation, into the dynamic buoyancy of a secure, comfy, and sane home-place. Use to support a sense of the one's spirit being embraced and nursed to its fill in the bosom of a nurturing and constant connection." With as varied as these pieces' 'applications' are, the musical content itself across Songwrights Apothecary Lab is equally diverse; though some bear a few similarities and could perhaps be considered short suites in themselves. Formwelas 1-3, for instance, were in fact released on the three-part suite EP TRIANGLE earlier this year, while Formwelas 4-6 all feature duets with multi-instrumentalist and vocalist Corey King.
Each of the sections within Songwrights finds Spalding in remarkably different musical contexts, either with just one collaborator, or an entire ensemble. The TRIANGLE suite gets into discordant territory pretty quickly, with densely harmonic piano and Spalding's own multi-tracked vocals taking centre stage; it's remarkable to listen to expansive works like this side-by-side with her comparatively traditional early beginnings. The tail-end of the suite even features a guest appearance from Wayne Shorter, offering a distorted, blown-out sax lead towards the end of 'Formwela 3'.
Photo credit: Holly Andres
And while moments like these can be almost standoffish in their abrasiveness, there's plenty of tender moments peppered throughout the record, particularly the acoustic guitar - vocal duet with Corey King on 'Formwela 4', while Spalding likewise summons her inner Joni Mitchell on the piano and voice-led 'Formwela 5'. Although, even the proceeding piece features a somewhat experimental approach to songwriting; led by a driving, busy bassline that accompanies her comparatively very steady vocal melody, the almost monotone vocal melody making for one of the more foreboding tracks on the album. Equally bold is the incredibly discordant chaos when the band comes in full-force on 'Formwela 7', followed immediately by 'Formwela 8's more spiritual approach echoing the devotional music of artists like Alice Coltrane, its celebratory melody repeated throughout the piece as the whole band jams on it for the best part of 11 minutes. 'Formwela 8' in particular is suited for finding "bouyancy of a secure, comfy and safe home-place", and given the deliberately repetitious structure of the tune and light melodicism, I'd say it does the job rather well.
Songwrights Apothecary Lab can be both obtuse and welcoming, discordant and tranquil - a real testament to Esperanza Spalding's now well-honed musical voice - she's come a long way since her humble beginnings as a (admittedly, pretty damn good) jazz bassist. Her latest project now showcases every side of her musical personality; from spiritual, avant-garde compositions to intimate vocal-guitar duets, Spalding doesn't shy away from applying every facet of her well-travelled musical knowledge.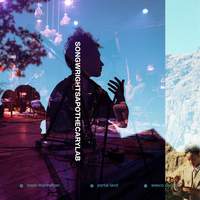 Available Formats: CD, MP3, FLAC, Hi-Res FLAC